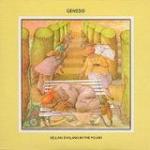 Artist: GENESIS
Album: "SELLING ENGLAND BY THE POUND REMASTERED (CD)"

Year: 1973/ 2008
Media type: CD


- 2008 DIGITAL REMASTER AND STEREO MIX [!]


- ВРЕМЕННО НАМАЛЕНИЕ!! ВАЖИ ДО ИЗЧЕРПВАНЕ НА ОПРЕДЕЛЕНИТЕ КОЛИЧЕСТВА!!


Цена: 16.00 лв. (BGN)

Cat. No.: WIZ00009616
Label: Virgin
Genre: Progressive/ NEO Progressive/ Instrumental Rock, Art/ Psychedelic / Occult Rock



Статус: Артикулът е временно изчерпан!
Доставка до 30 дни.
Out of Stock
30 days delivery




Selling England by the Pound is the fifth studio album by the progressive rock band Genesis and was recorded and released in 1973. It followed Foxtrot and was the band's commercial peak with Peter Gabriel, hitting # 3 in the UK where it remained on the charts for 21 weeks. The album went gold in the US in 1990.

The album cover is a painting by Betty Swanwick called The Dream. The original painting did not feature a lawn mower; the band had Swanwick add it later as an allusion to the song "I Know What I Like."

Retaining the pastoral yearning for ancient or medieval England as its primary thematic material, the album focuses on traces of this past in the present. Songs about England's mythological past ("Dancing With the Moonlit Knight") co-exist with sketches of contemporary lawnmowers ("I Know What I Like"), and the centrepiece of the second side, the epic "Cinema Show", has two lovers serve as reincarnations of ancient Greek figures in a way which is almost directly out of the "Fire Sermon" scene in T. S. Eliot's long poem The Waste Land.

All songs by Tony Banks, Phil Collins, Peter Gabriel, Steve Hackett and Mike Rutherford.

TRACKLIST:

"Dancing With the Moonlit Knight" – 8:04
"I Know What I Like (In Your Wardrobe)" – 4:07
"Firth of Fifth" – 9:35
"More Fool Me" – 3:10

"The Battle of Epping Forest" – 11:49
"After the Ordeal" - 4:13
"The Cinema Show" – 11:06
"Aisle of Plenty" – 1:32

LINE-UP:

Peter Gabriel – lead vocals, flute, oboe, percussion
Phil Collins – drums, percussion, backing vocals, lead vocals on "More Fool Me"
Tony Banks – backing vocals, piano, keyboards, acoustic guitar on "The Cinema Show"
Steve Hackett – lead guitar, backing vocals on "I Know What I Like"
Mike Rutherford – bass guitar, bass pedals, rhythm guitar, sitar on "I Know What I like", double bass on "The Cinema Show"