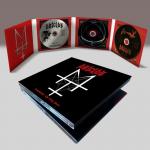 ДРУГИ НАЛИЧНИ АРТИКУЛИ НА
DEICIDE:


Artist: DEICIDE
Album: "CRUCIFIXION - THE EARLY YEARS (3CD DIGI)"

Year: 11.11.2022
EAN/UPS: 5013929020962
Media type: CD

Цена: 48.00 лв. (BGN)

Cat. No.: WIZ00028688
Label: Dissonance
Genre: Old Skull/ Melodic/ Technical Death Metal



Статус: Наличен / In Stock





28 track triple CD package from controversial US death metal legends Deicide featuring three full albums from the band's earliest years with Roadrunner Records. Both 'Deicide' and 'Legion' are officially certified among the Top 5 biggest selling Death Metal records of all time according to Soundscan. Featuring extensive liner notes from respected writer Dom Lawson, including new interviews with producer Scott Burns and A&R legend Monte Conner.

- CD 1 features their classic self-titled debut full length, originally released in 1990.
- CD 2 features the massively successful follow up 'Legion', originally released in 1992.
- CD 3 features the hard to find demos collection 'Amon: Feasting The Beast' featuring early recordings of songs that made it onto the first album, originally issued in 1993.