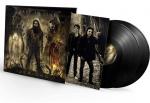 Artist: LAST IN LINE [ex-DIO]
Album: "JERICHO VINYL (2LP BLACK)"

Year: 31.03.2023
EAN/UPS: 4029759183549
Media type: LP

Цена: 68.00 лв. (BGN)

Cat. No.: WIZ00028603
Label: Ear Music
Genre: Heavy Metal/ NWOBHM, Hard Rock



Статус: Артикулът е временно изчерпан!
Доставка до 30 дни.
Out of Stock
30 days delivery





Last in Line, the hard rock quartet featuring ex-Dio guitarist Vivian Campbell and drummer Vinny Appice, will release a new 12-track LP comes out on March 31.

Campbell, Appice and original Dio bassist Jimmy Bain formed Last in Line in 2012, following the death of Ronnie James Dio in 2010, deriving their name from Dio's sophomore album. Bassist Phil Soussan (Ozzy Osbourne, Billy Idol) joined the fold in 2016 after Bain died, and former Lynch Mob singer Andrew Freeman fronts the band.

TRACKLIST CD/ 2LP:

1. "Not Today Satan"
2. "Ghost Town"
3. "Bastard Son"
4. "Dark Days"
5. "Burning Bridges"
6. "Do The Work"
7. "Hurricane Orlagh"
8. "Walls Of Jericho"
9. "Story Of My Life"
10. "We Don't Run"
11. "Something Wicked"
12. "House Party At The End Of The World"