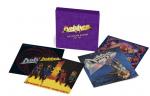 ДРУГИ НАЛИЧНИ АРТИКУЛИ НА
DOKKEN:


Artist: DOKKEN
Album: "ELEKTRA ALBUMS BOXSET (4CD BOX)"

Year: 27.01.2023
EAN/UPS: 4050538679977
Media type: CD

Цена: 68.00 лв. (BGN)

Cat. No.: WIZ00028243
Label: BMG
Genre: Heavy Metal/ NWOBHM, Hard Rock, Hard N Heavy/ Hair Metal/ Glam Rock



Статус: Наличен / In Stock





4CD boxset includes:
Breaking The Chains 1CD
Tooth And Nail 1CD
Under Lock And Key 1CD
Back For The Attack 1CD

Hailing from Los Angeles, Dokken released a string of platinum albums throughout the 1980s and toured the globe with the biggest names in hard rock and heavy metal, including Van Halen, Aerosmith, Metallica, Scorpions, and Kiss.

The band had several hit singles on the Mainstream Rock and Billboard Hot 100 charts, and were all over MTV with their videos for "Breaking The Chains", "Alone Again", "Into The Fire", "In My Dreams", "It's Not Love", "Burning Like A Flame" and especially the Theme from Nightmare on Elm Street 3, "Dream Warriors', where they starred alongside Freddy Krueger.

Dokken have sold more than 10 million albums worldwide, and their live album, Beast from the East was nominated for the inaugural Grammy Award for Best Metal Performance in 1989.