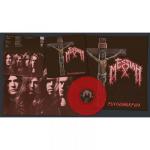 ДРУГИ НАЛИЧНИ АРТИКУЛИ НА
MESSIAH:


Artist: MESSIAH
Album: "PSYCHOMORPHIA TRANSLUCENT RED VINYL REISSUE (LP)"

Year: 2019
EAN/UPS: 4251267703081
Media type: LP

Цена: 38.00 лв. (BGN)

Cat. No.: WIZ00028112
Label: HIgh Roller
Genre: Thrash Metal/ Speed



Статус: Артикулът е временно изчерпан!
Доставка до 30 дни.
Out of Stock
30 days delivery





With the demo "PSYCHOMORPHIA", the second era of MESSIAH was announced in early 1990, which finally led to the deal with the indie label NOISE Records. Stylistically, the new songs with the vocals of the new singer Andy Kaina were more like Death Metal, but also heavily influenced by the atmospheric intros / outros. "PSYCHOMORPHIA" was first released as a demo tape by the band, recorded, and produced in the renowned Ebony studio in Wohlen / Switzerland. Later, as part of the release of the first longplayer "CHOIR OF HORRORS", the EP "PSYCHOMORPHIA" was released in advance as an introduction to the Metal community. The guitars were partially re-recorded and provided in the Sky-Trak Studio Berlin with a new mix and mastering.

Psychomorphia (Re-Mastered):

1. Birth of a Second Individual
2. Psychomorphia

3. Right for Unright
4. M.A.N.I.A.C.