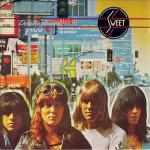 ДРУГИ НАЛИЧНИ АРТИКУЛИ НА
THE SWEET:


Artist: THE SWEET
Album: "DESOLATION BOULEVARD NEW EXTENDED VERSION (DIGI)"

Year: 2018
EAN/UPS: 889853218721
Media type: CD

- МЕГА РАЗПРОДАЖБА!! ВАЖИ ДО ИЗЧЕРПВАНЕ НА ОПРЕДЕЛЕНИТЕ КОЛИЧЕСТВА!!

Цена: 16.00 лв. (BGN)

Cat. No.: WIZ00027468
Label: Sony
Genre: Hard N Heavy/ Hair Metal/ Glam Rock, Classic Rock/ Mainstreem/ Retro Rock



Статус: Артикулът е временно изчерпан!
Доставка до 30 дни.
Out of Stock
30 days delivery





Sweet originally began as a pre-packaged pop outfit for the producers/songwriters Nicky Chinn and Mike Chapman. By combining the crunch of hard rock with the hooks of bubblegum pop, the pair provided Sweet with its first handful of mindlessly effective hits in the early glam soaked '70s, notably "Little Willy," "Blockbuster," "Wig Wam Bam," and "Ball Room Blitz." Underneath this teen-pop glitz however, a real rock and roll band was smoldering. Determined to make its own statement and get out from under the Chinn-Chapman control center, the band took a leap of faith and cut DESOLATION BOULEVARD completely on its own.

What is surprising is not so much the band's desire for independence but that Sweet succeeded on all fronts with this release. Keeping the power hooks intact, the band displays its own knack for songwriting. DESOLATION BOULEVARD contains the band's biggest single, "Fox on the Run," a telling rocker featuring the band's multi-octave vocals. The other highlight on the album is the softer "The 6-Teens," which harkens back to the band's pop formula with considerably more texture than the their earlier hits.

TRACKLIST CD:

1.The Six Teens
2.Solid Gold Brass
3.Turn It Down
4.Medussa
5.Lady Starlight
6.Man With the Golden Arm
7.Fox on the Run
8.Breakdown
9.My Generation
10.I Wanna Be Commited [Full Length Version]
11.Medussa [Demo]
12.Burn on the Flame [Demo Version]
13.Turn It Down [Alternate Version]
14.Are You Coming to See Me [Early Version of Medussa]
15.Fox on the Run [Demo]
16.Lady Starlight [Andy Scott Demo]

Sweet:
Andy Scott (vocals, guitars, synthesizer); Steve Priest (vocals, bass); Mick Tucker (vocals, drums, timpani, tubular bells, gong); Brian Connolly (vocals).
Producers: Phil Wainman, Mike Chapman, Sweet, Nicky Chinn.
Recorded at Audio International Studios, London, except "Fox On The Run" recorded at Kingsway Studio, London.