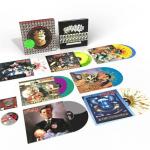 ДРУГИ НАЛИЧНИ АРТИКУЛИ НА
TANKARD: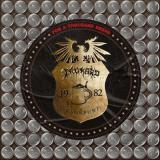 Artist: TANKARD
Album: "FOR A THOUSAND BEERS VINYL BOXSET (9LP+DVD BOX)"

Year: 25.02.2022
EAN/UPS: 4050538701050
Media type: LP

Цена: 228.00 лв. (BGN)

Cat. No.: WIZ00026552
Label: BMG
Genre: Thrash Metal/ Speed



Статус: Артикулът е временно изчерпан!
Доставка до 30 дни.
Out of Stock
30 days delivery





"For A Thousand Beers" is a deluxe 40th anniversary celebration of TANKARD's, Noise Records discography and is the definitive collection of their decade of recorded work and contains:

Zombie Attack (Splatter vinyl)
Chemical Invasion (Swirl vinyl)
The Morning After (including Alien EP) (Splatter vinyl)
The Meaning of Life (Paint drop vinyl)
Stone Cold Sober (Splatter vinyl)
Two-Faced (Half/half colour vinyl)
The Tankard (including Tankwart EP) (Splatter vinyl)
Fat, Ugly & Live DVD – containing 'Open All Night' concert film, 'Fat, Ugly & Live' album plus previously unreleased video concert from the Dynamo, Eindhoven 1987 and audio concert from Frankfurt 1988.
12" x 12", 40-page hardback book of photography, quotes and lyrics from the first decade of the band's existence. Contains rare and previously unseen photos from the era.
All housed in a case of beer box!