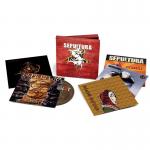 ДРУГИ НАЛИЧНИ АРТИКУЛИ НА
SEPULTURA:


Artist: SEPULTURA
Album: "SEPULNATION - THE STUDIO ALBUMS 1998-2009 (5CD BOX)"

Year: 22.10.2021
EAN/UPS: 4050538670905
Media type: CD

Цена: 48.00 лв. (BGN)

Cat. No.: WIZ00026209
Label: BMG
Genre: Thrash Metal/ Speed



Статус: Наличен / In Stock





"Sepulnation – The Studio Albums 1998 – 2009", released through BMG on October 22, celebrates the bands seconds phase, and this five-album boxset (across eight slabs of vinyl or five CDs) contains the albums; "Against," "Nation, " "Roorback, " "Dante XXI " and "A-Lex ," all of which are half speed cut, remastered and back on 180g vinyl for the first time in a decade and also as a collector's CD box.

In addition, the "Roorback" album features the rare "Revolusongs" EP, which is available for the first time digitally and saw the band celebrate their influences with covers of bands as musically broad as Devo, Exodus, U2 and Massive Attack.

CD Box set:

This five album, 5CD clam shell box set includes:
- Against
- Nation
- Roorback
- Dante XXI
- A-Lex

Roorback, Dante XXI and A-Lex all remastered. Roorback also includes rare Revolusongs EP.