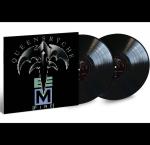 ДРУГИ НАЛИЧНИ АРТИКУЛИ НА
QUEENSRYCHE:


Artist: QUEENSRYCHE
Album: "EMPIRE VINYL REISSUE (2LP)"

Year: 25.06.2021
EAN/UPS: 060257711852
Media type: LP

Цена: 60.00 лв. (BGN)

Cat. No.: WIZ00025727
Label: Universal
Genre: Progressive/ Instrumental Metal, Melodic Heavy Metal



Статус: Артикулът е временно изчерпан!
Доставка до 30 дни.
Out of Stock
30 days delivery





Empire was originally released on 20th August 1990, and is the band's most commercially successful album to date, reaching triple platinum status. It featured the top 10 hit, "Silent Lucidity", which was nominated for 2 Grammys, and "Jet City Woman". The follow up to the groundbreaking Operation: Mindcrime, the album was produced by Peter Collins, and recorded in Washington and Vancouver in the spring of 1990. Empire features brilliant and intelligent lyrics and songwriting complimented by incredible musicianship, with the songs ranging from beautiful ballads, strong melodic rockers, and classic heavy fist pumpers.

This version, newly remastered at Abbey Road Studios, brings together all the available recordings to narrate the story of this remarkable album.




Side One:

1 Best I Can
2 The Thin Line
3 Jet City Woman

Side Two:

1 Della Brown
2 Another Rainy Night (Without You)
3 Empire

Side Three:

1 Resistance
2 Silent Lucidity
3 Hand On Heart

Side Four:

1 One And Only
2 Anybody Listening?