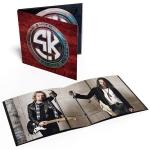 ДРУГИ НАЛИЧНИ АРТИКУЛИ НА
ADRIAN SMITH/ RITCHIE KOTZEN:


Artist: ADRIAN SMITH/ RITCHIE KOTZEN
Album: "SMITH/ KOTZEN (DIGI)"

Year: 26.03.2021
EAN/UPS: 4050538657531
Media type: CD

Цена: 24.00 лв. (BGN)

Cat. No.: WIZ00025440
Label: Silver Linging
Genre: Heavy Metal/ NWOBHM, Melodic Heavy Metal



Статус: Наличен / In Stock





Smith/Kotzen is the exciting partnership between guitarists & vocalists Adrian Smith & Richie Kotzen. Part-time LA neighbours, full time friends with a healthy mutual respect - their music is evocative of the classic rock bands of the 70's brought bang up to date with punchy hooks, harmonies and sheer guitar virtuosity. Debut track 'Taking My Chances' sets the tone for this electrifying collaboration between two hugely admired rock music trail-blazers.

TRACKLIST CD/ LP:

1. "Taking My Chances"
2. "Running"
3. "Scars"
4. "Some People"
5. "Glory Road"
6. "Solar Fire"
7. "You Don't Know Me"
8. "I Wanna Stay"
9. "'Til Tomorrow"