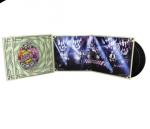 Artist: NICK MASONS SAUCERFUL OF SECRETS
Album: "LIVE AT THE ROUNDHOUSE VINYL (2LP)"

Year: 18.09.2020
EAN/UPS: 190759827116
Media type: LP


Цена: 80.00 лв. (BGN)

Cat. No.: WIZ00024707
Label: Sony
Genre: Progressive/ NEO Progressive/ Instrumental Rock, Art/ Psychedelic / Occult Rock



Статус: Артикулът е временно изчерпан!
Доставка до 30 дни.
Out of Stock
30 days delivery





Live at the Roadhouse не е като никой друг концертен филм на Pink Floyd, а най-близкото до машина на времето, която ви връща назад към най-ранните дни на групата. Nick Mason, единственият член на бандата, който е бил част от всички студийни албуми на Pink Floyd, представя колекция от първите им звукозаписи, заедно с Gary Kemp, Guy Pratt, Lee Harris и Dom Beken.

Лентата е заснета по време на участия на групата в Roadhouse в Лондон, където Pink Floyd изнасят едни от най-знаменитите си концерти през 60-те години, и представя уникален сетлист от парчета, датиращи от времето на Syd Barrett. Само 4 от песните са били част от предишни лайв релийзи на Pink Floyd, останалите 18 излизат за първи път от изпълненията им на живо.

TRACKLIST 2CD/ DVD/ BLURAY/ 2LP:

1. "Beginnings"
2. "Interstellar Overdrive"
3. "Astronomy Domine"
4. "Lucifer Sam"
5. "Fearless"
6. "Obscured by Clouds"
7. 'When You're In"
8. "Remember a Day"
9. "Arnold Layne"
10. "Vegetable Man"
11. "If"
12. "Atom Heart Mother"
13. "The Nile Song"
14. "Green Is the Colour"
15. "Let There Be More Light"
16. "Childhood's End"
17. "Set the Controls for the Heart of the Sun"
18. "See Emily Play"
19. "Bike"
20. "One of These Days"
21. "A Saucerful of Secrets"
22. "Point Me at the Sky"