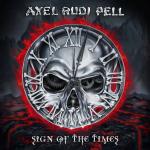 ДРУГИ НАЛИЧНИ АРТИКУЛИ НА
AXEL RUDI PELL:





Artist: AXEL RUDI PELL
Album: "SIGN OF THE TIMES DELUXE BOXET (DIGI+2LP+POSTER+ BOX)"

Year: 08.05.2020
EAN/UPS: 886922415494
Media type: LP


CONTENT Deluxe Box Set:
- CD Digipak
- 2LP gatefold, printed inner sleeves, exclusive box set color: red transparent
- Wall clock with cover motif
- Fridge magnet
- A1 double sided poster
- A5 photo card
- Sticker
- Button
- Size of the box: 33 cm x 33 cm x 16 cm
- Hard cardboard material with top

Цена: 80.00 лв. (BGN)

Cat. No.: WIZ00024113
Label: SPV
Genre: Melodic Hard Rock/ AOR, Hard Rock, Melodic Heavy Metal



Статус: КОЛИЧЕСТВАТА ОТ ТОЗИ ФОРМАТ/АРТИКУЛ
СА ОКОНЧАТЕЛНО ИЗЧЕРПАНИ
И НЕ МОГАТ ДА БЪДАТ ДОСТАВЕНИ [!]
Permanently Out of Stock!




The figures speak for themselves: more than 1.7 million albums sold worldwide, 2.6 million streams for the top 10 predecessor "Knights Call" (2018). Now AXEL RUDI PELL is about to release "Sign Of The Times", his 18th (!) studio album in 31 years. But not quantity matters - it's the quality that counts, stupid! His consistency enjoys more and more respect and appreciation within the hard & heavy community. Not every time, but with increasing frequency you hear the term 'cult' when it comes to AXEL RUDI PELL. Being the man that he is, he cannot rely on that idea, but "if someone is that successful over such a long period of time, he might as well deserve it." Sounds down to earth? Well, it was meant that way. "When we played Moscow last summer, a lot of fans came up to me, calling me a 'legend'. My answer was: I'm just a guitar player."

Nothing more, nothing less. Although the 59-year-old knows what he's capable of, he is still able to surprise himself, like on "Sign Of The Times". "I don't know why, but this time I finished the songs at least a month ahead of my deadline." Another important fact is the change of guards at the production helm because for the first time since nine albums in a row he worked with somebody other than his long-time co-producer and engineer Charlie Bauerfeind, opting for the engineer of his live albums "Magic Moments" (2015) and "XXX Anniversary" (2019) instead: "I knew from the start that Tommy Geiger was the right man for the job and he proved it. Everything worked out fine." There is another reason why "Sign Of The Times" has turned out this good: The two Americans in Pell's band played a significant role as well because singer Johnny Gioeli and drummer Bobby Rondinelli were on fire. "First of all Johnny has outdone himself during the recordings, he certainly gave more than his usual 100 percent this time around. Because he has been performing a lot lately, he's been singing live a lot. Secondly, we've never had a better drum sound with Bobby in the band and he is on his fourth album now, thanks to his new Snare drum called 'Black Beauty'.

And of course, the songs are a lot better this time," he laughs. No arguing here: with the double bass assault "Gunfire", PELL has delivered the best opener of the last ten years or so; "Bad Reputation" is one straightforward melodic rocker; the mighty epic title track was created in a pretty unusual way during a sound check on the last tour; the up-tempo track "The End Of The Line" impresses with a long, but undisputedly catchy chorus, and the ballad "As Blind As A Fool Can Be" is as touching as ever. But the second part of the album is the most interesting and surprising because PELL breaks with his own traditions several times: "Wings Of The Storm" is a modern-day homage to the Coverdale/Hughes-led line-up of Deep Purple, but delivered in Jimi Hendrix style. The intense "Waiting For Your Call" sees one of Gioeli's best vocal performances, while the Reggae intro on "Living In A Dream" left his other bandmates, Volker Krawzcak (b) und Ferdy Doernberg (k), in awe. "Into The Fire" ends the album in the typical, well-known epic PELL way, but is shorter than on the previous efforts.

That is one of the differences: the solos are not over the top, but song-orientated and much more melodic, there is no hint of a lack of quality on the whole album. As the maestro points out "there is nothing to complain about, even the record company guys are excited as hell." Maybe because PELL stayed away from his beloved mystical moments (you know, kings, knights, wizard and the like) and went for more realistic textures, in line with the title "Sign Of The Times". "There are a few of the love/hate relationship songs, but most of the lyrics deal with the situation our planet is in right now, that's why the clock on the cover shows two minutes AFTER midnight. We live in a very dangerous environment in terms of climate change, religious wars and public safety." You can be pretty damn sure that writing these lyrics was a lot easier and faster than before. Another indication that "Sign Of The Times" has turned into the great album that it is. And you can tell that AXEL RUDI PELL is still able to surprise himself AND his fans. What more could you ask for when it comes to a decent birthday present? AXEL RUDI PELL is turning 60 in June. There is no better way to celebrate life, right? Watch the sign of the times!

TRACKLISTING CD Digipak/Jewel Case:

1. The Black Serenade (intro) 01:40
2. Gunfire 05:21
3. Bad Reputation 05:41
4. Sign Of The Times 07:10
5. The End Of The Line 05:22
6. As Blind As A Fool Can Be 06:14
7. Wings Of The Storm 05:48
8. Waiting For Your Call 05:34
9. Living In A Dream 05:59
10. Into The Fire 06:01


TRACKLISTING 2LP Gatefold:

Side 1
1. The Black Serenade (intro) 01:40
2. Gunfire 05:21
3. Bad Reputation 05:41

Side 2
1. Sign Of The Times 07:10
2. The End Of The Line 05:22

Side 3
1. As Blind As A Fool Can Be 06:14
2. Wings Of The Storm 05:48
3. Waiting For Your Call 05:34

Side 4
1. Living In A Dream 05:59
2. Into The Fire 06:01


LINE-UP:

Johnny Gioeli - Lead and Backing Vocals
Axel Rudi Pell - Lead, Rhythm and Acoustic Guitars
Ferdy Doernberg - Keyboards
Volker Krawczak - Bass
Bobby Rondinelli – Drums