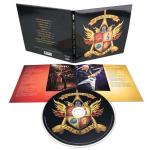 ДРУГИ НАЛИЧНИ АРТИКУЛИ НА
WISHBONE ASH:





Artist: WISHBONE ASH
Album: "COAT OF ARMS LTD. EDIT. (DIGI)"

Year: 28.02.2020
EAN/UPS: 886922413827
Media type: CD


Цена: 26.00 лв. (BGN)

Cat. No.: WIZ00024023
Label: SPV
Genre: Melodic Hard Rock/ AOR, Hard Rock



Статус: Наличен / In Stock




- WISHBONE ASH celebrates this year their 50th anniversary!!! The band released legendary albums like "Argus", "There's The Rub" and "Live Dates". The band, still led by original member Andy Powell, was a huge influence for Iron Maiden's bass player Steve Harris. The new album is back to the roots and the first one since 2014.


Their latest release Coat Of Arms forges an arc to all these offerings, featuring Wishbone Ash's characteristic twin lead guitar parts, their haunting melodies and diverse stylistic facets, while at the same time imbuing the scene with a breath of fresh air. Coat Of Arms will be available on Steamhammer/SPV from 28 February 2020 on CD, vinyl double LP and for digital download. 10 January 2020 will see the arrival of the lead single 'We Stand As One', which Powell proudly describes as a "real heavy rock anthem featuring wonderful guitars, in the true spirit of Wishbone Ash classics such as 'The Warrior'."

TRACKLIST DIGI:

1) We Stand As One 4:16
2) Coat Of Arms 7:55
3) Empty Man 5:17
4) Floreana 5:14
5) Drive 4:55
6) It's Only You I See 7:35
7) Too Cool For AC 4:51
8) Back In The Day 4:46
9) Deja Vu 4:07
10) When The Love Is Shared 4:21
11 Personal Halloween 5:38

LINE-UP:

Andy Powell – guitar, vocals
Mark Abrahams – guitar
Bob Skeat – bass
Joe Crabtree - drums