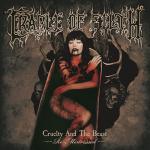 ДРУГИ НАЛИЧНИ АРТИКУЛИ НА
CRADLE OF FILTH:





Artist: CRADLE OF FILTH
Album: "CRUELTY AND THE BEAST RE-MISTRESSED (CD)"

Year: 01.11.2019
EAN/UPS: 0190758808826
Media type: CD


Цена: 20.00 лв. (BGN)

Cat. No.: WIZ00023870
Label: Sony
Genre: Black Metal/ Atmospheric/ Dark Metal



Статус: Артикулът е временно изчерпан!
Доставка до 30 дни.
Out of Stock
30 days delivery




Let's face it, if you don't dig this band then listening to a remixed version of one of their classic albums is unlikely to win you over. But for CRADLE fans, this is a gift from the metal gods. Projects like this are always a little perilous, not least because we metalheads can be extremely precious about our favorite records, often to the point of vociferously defending obvious flaws. But it's hard to imagine anyone complaining when they hear what Dani and studio maestro Scott Atkins have achieved here. Many re-mixing and re-mastering jobs fall short of their transformational remit, but "Cruelty and the Beast – Re-Mistressed" demonstrates what can be done: this is a flawed classic reborn in magnificent sonic splendor, sounding precisely as it should have done all those years ago and yet somehow even bigger and better than that. The drums are, of course, unrecognizable from the original's thwarted thuds and clicks: thank Satan for modern technology, because suddenly "Thirteen Autumns and a Widow" sounds like a bomb going off in hell, just as its creators originally intended. The overall sound has been tweaked to renewed perfection, remaining close enough to the spirit of the original without emulating any of its weaknesses and newly imbued with a very contemporary sense of sonic heft.
TRACKLIST CD/ 2LP:

1 - Once upon atrocity 1:45
2 - Thirteen autumns and a widow 7:15
3 - Cruelty brought three orchids 7:19
4 - Beneath the howling stars 7:38
5 - Venus in fear 2:20
6 - Desire in violent overture 4:17


7 - The twisted nails of faith 6:50
8 - Bathory Aria 11:02
- 8.1 Benighted Like Usher
- 8.2 A Murder Of Ravens In Fugue
- 8.3 Eyes That Witnessed Madness
9 - Portrait of the dead countess 2:51
10 - Lustmord and wargasm (The lick of carnivorous winds) 7:31
11 - Hallowed be thy name 7:13 - bonus IRON MAIDEN cover