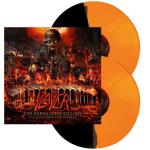 ДРУГИ АРТИКУЛИ НА
SLAYER:





Artist: SLAYER
Album: "THE REPENTLESS KILLOGY BI-COLOURED VINYL (2LP)"

Year: 08.11.2019
Media type: LP


- Das Thrash Metal Highlight exklusiv beim NUCLEAR BLAST/ WIZARD Mailorder! "Live at The Forum in Inglewood, CA" - der Live-Mittschnitt der ausverkauften Show in Los Angeles auf der 2017er "Repentless"-Tour! 21 gnadenlose SLAYER Klassiker auf zwei LPs! Limitiert auf 500 orange-schwarze Vinyl im Gatefold inkl. gefütterten Innenhüllen!

Цена: 58.00 лв. (BGN)

Cat. No.: WIZ00023762
Label: Nuclear Blast
Genre: Thrash Metal/ Speed



Статус: КОЛИЧЕСТВАТА ОТ ТОЗИ ФОРМАТ/АРТИКУЛ
СА ОКОНЧАТЕЛНО ИЗЧЕРПАНИ
И НЕ МОГАТ ДА БЪДАТ ДОСТАВЕНИ [!]
Permanently Out of Stock!




Formed in 1981, SLAYER are one of the most respected and well-known metal bands on the planet. With a dozen proper full lengths under their belt, including 2015's Nuclear Blast debut "Repentless", SLAYER's catalog remains an unfathomably important installment in music's history. The 2-CD digipak release contains a full live show from The Forum during their Repentless tour in 2017 with tracks spanning the bands career.

"The Repentless Killogy" features SLAYER's entire live set performed at the Los Angeles Forum on August 5, 2017, and was directed by Wayne Isham who has directed videos for artists including METALLICA, FOO FIGHTERS, Michael Jackson, Kelly Clarkson, and Britney Spears. Presented in front of one of the most striking stage productions of the band's career, SLAYER performs fan-favorites including 'South of Heaven,' 'War Ensemble,' 'Mandatory Suicide,' 'Dead Skin Mask,' 'Raining Blood,' and 'Angel of Death.'

Side A:
1. Delusions Of Saviour
2. Repentless
3. The Antichrist
4. Disciple
5. Postmortem
6. Hate Worldwide

Side B:
1. War Ensemble
2. When The Stillness Comes
3. You Against You
4. Mandatory Suicide
5. Hallowed Point

Side C:
1. Dead Skin Mask
2. Born Of Fire
3. Cast The First Stone
4. Bloodline
5. Seasons In The Abyss

Side D:
1. Hell Awaits
2. South Of Heaven
3. Raining Blood
4. Chemical Warfare
5. Angel Of Death


LINE-UP:

TOM ARAYA | vocals, bass
KERRY KING | guitars
GARY HOLT | guitars
PAUL BOSTAPH | drums