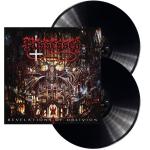 ДРУГИ НАЛИЧНИ АРТИКУЛИ НА
POSSESSED:





Artist: POSSESSED
Album: "REVELATIONS OF OBLIVION VINYL (2LP BLACK)"

Year: 10.05.2019
EAN/UPS: 727361473914
Media type: LP


- THE DEATH METAL FOUNDERS ARE BACK!

- МЕГА РАЗПРОДАЖБА!! ВАЖИ ДО ИЗЧЕРПВАНЕ НА ОПРЕДЕЛЕНИТЕ КОЛИЧЕСТВА!!

Цена: 34.00 лв. (BGN)

Cat. No.: WIZ00023282
Label: Nuclear Blast
Genre: Old Skull/ Melodic Death Metal, Thrash Metal/ Speed



Статус: Наличен / In Stock




There was a time in which genuine power was felt erupting from the sonic landscape that is now referred to as "old school" death metal. As with most newly developed forms of art, at its genesis it was filled with a fresh and vibrant energy and was virtually unsaturated by musicians. It was the mighty POSSESSED who initially breathed life into this new and exciting genre. With writing that started in 1982, the first official death metal band created the now classic record »Seven Churches« and established the face of the genre permanently. Even DEATH's late guitarist and mastermind Chuck Schuldiner who is sometimes credited with creating the genre, was adamant about the album's influence upon him. Sadly, like with many artistic pioneers, it was very early on in POSSESSED's existence that a grand tragedy struck which would put the band on hiatus for almost two decades. After many years of healing, education, renewal, and eventually new writing, there is now a resurgence of life, and the rebuilt, and polished POSSESSED are due to return with their long awaited album »Revelations Of Oblivion« this Spring, 2019.

As time has passed the line-up for the band has shifted and after tireless striving for perfection, the ultimate combination has been settled upon. POSSESSED is now original founder and song writer Jeff Becerra (Vocals), Daniel Gonzalez on guitar (Nailshitter, Gruesome), Claudeous Creamer on guitars (Dragonlord, Serpent, Girth), Robert Cardenas on bass guitar (Coffin Texts, Masters of Metal, Agent Steel, Malice, Engrave), and Emilio Marquez (Brainstorm, Sadistic Intent, Engrave, Brujeria) on drums. With the majority of the album written by founder Jeff Becerra and his partner in crime Guitarist Daniel Gonzalez, the new tracks manage to hang on to what all metal-heads hope for with their favorite artists; a consistent sound. It is a guarantee that fans will know immediately upon listening to »Revelations Of Oblivion« that this is in fact, the familiar sound of POSSESSED.

The album is adorned with artwork by Polish artist Zbigniew Bielak who has created artwork for bands like ABSU, DEICIDE, GHOST, GORGUTS, PARADISE LOST, and the like. The painting on the cover radiates a complex, demonic, hellfire ridden feel. With elements of the actual lyrics strewn throughout, the image tells a very detailed story. Symbolic and abstract images of cathedrals, horrifying demons, and gothic stained glass windows are detailed magnificently. Though we've seen enlightened transformations throughout humanity over the past several decades, there still remains a hovering horror that can be found inside most standardized religions; often appearing to preach love and modesty, though many believe they actually demand a sort of violence and lust for power that will one day be the undoing of humanity as we know it. It is with this artwork and the underlying message of the lyrics that POSSESSED hope to bring back the notion of true fear that was once associated with the idea of evil.

Tracks like 'No More Room In Hell' describe a hell on earth where there is no more physical God, Satan, or afterlife to discern right from wrong, only the leftovers of humanity existing in torture and plague. 'The Word' goes more in depth concerning the less tangible ideals of a religious fallout such as the loss of scripture, and how humanity reacts when there is no longer a "word" of God to bestow boundaries upon them. Songs like 'Ritual' and 'Graven' focus on more specific notions of hatred, religion, and what it means to engulf oneself within these things.

Co-produced by Daniel Gonzalez and executive produced by Jeff Becerra, the album was recorded at NRG studios, Titan Studios, and mixed & mastered by the likes of Peter Tägtgren (HYPOCRISY, PAIN, BLOODBATH) at Abyss studios in Sweden. Becerra comments: "Working with Peter was a fantastic experience. We put a great deal of thought into who we wanted to produce our new album. Since we hadn't made an all-new material release in well over 30 years, it was essential that we found the right person. Peter's name kept coming up over and over, and after speaking with my bandmates they all really liked Peter as he is more organic, and somebody we felt would fit in well with our process."

Summertime and festival season are right around the corner, ushering in new opportunity for live shows and tour cycles for the band. With exciting announcements drawing near, POSSESSED is ready to take on the road. Crawling out of a pale inferno of creation, life, loss, and injury, the ensemble has returned to reignite the flame of true Death Metal. Prepare yourselves for you are soon to behold »Revelations Of Oblivion« as the harbinger of a resurrected musical era.

2LP (33 RPM):

Side A
01. Chant Of Oblivion
02. No More Room In Hell
03. Dominion

Side B
01. Damned
02. Demon
03. Abandoned

Side C
01. Shadowcult
02. Omen
03. Ritual

Side D
01. The Word
02. Graven
03. Temple Of Samael

LINE-UP:

Jeff Becerra | Vocals
Daniel Gonzalez | Guitars
Emilio Marquez | Drums
Robert Cardenas | Bass
Claudeous Creamer | Guitars