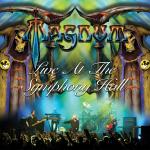 ДРУГИ НАЛИЧНИ АРТИКУЛИ НА
MAGNUM:





Artist: MAGNUM
Album: "LIVE AT THE SYMPHONY HALL VINYL (3LP+2CD)"

Year: 2019
EAN/UPS: 886922871115
Media type: LP


- 15 live songs – Majestic Hard Rock at it`s best recorded at the Symphony Hall Birmingham, their home town! Tobias Sammet (Avantasia, Edguy) is special guest on two songs. Produced by Tony Clarkin + artwork by Magnums bass player Alan Barrrow. High class 2 CD digipak and triple LP version [!]

Цена: 65.00 лв. (BGN)

Cat. No.: WIZ00022947
Label: SPV
Genre: Progressive/ NEO Progressive/ Instrumental Rock, Melodic Hard Rock/ AOR, Hard Rock



Статус: Артикулът е временно изчерпан!
Доставка до 30 дни.
Out of Stock
30 days delivery




Every music lover knows that the closing concert of a long tour is always a very special event. For weeks in advance the audience has been able to read up on how much the band has been celebrated in their previous concerts evening after evening and they are all the more excited to see their heroes with their own eyes. After having played those numerous concerts, the band is in excellent shape, perfectly attuned to one another and of course they want to outdo themselves with this final show. One of those tour finales took place on 19 April 2018 inside Birmingham`s Symphony Hall. It was there that the British rock band Magnum completed their Road To Eternity tour, which consisted of 42 concerts, and performed at the highest level.

"A truly magical evening", guitarist Tony Clarkin confirms, "especially seeing as the show was a sort of home game for us, since all of us are from around the area between Birmingham and Wolverhampton, although during the last 20 years we have performed in Birmingham only once. In this respect it was a special moment for Magnum in more than one way." According to the occasion, band members Tony Clarkin, vocalist Bob Catley, bassist Al Barrow as well as their two newest members keyboarder Rick Benton and drummer Lee Morris confidently played their way through a well-chosen mix of classics and newer songs, which rather successfully join the ranks of the band`s long tradition of atmospheric rock songs.

Star guest Tobias Sammet (Avantasia, Edguy), too, was swept along by this enthusiasm and the blazing interaction between the musicians and their Birmingham audience when he went on stage for 'Lost On The Road To Eternity' to lend energetic support to vocalist Bob Catley just like he did for the track's studio recording. Oh and just by the way: As a forerunner to this gripping live album 'Lost On The Road To Eternity' will hit the market as a digital single on November 9th, 2018.

All that's left to ask now is what makes Live At The Symphony Hall any different from former Magnum live recordings. "Bob and I have been in this band for quite a while now, but we've never lost our passion for Magnum", Clarkin elaborates. "We want to keep learning new things and are open to tips and advice. That's why we constantly revise our old songs, sometimes we play them a bit faster, sometimes a bit slower, we change a solo here and a part of the melody there. That way we not only keep our audience interested but also our own enjoyment in these pieces alive." There isn't a more fitting way to describe the magic that happens on Live At The Symphony Hall.

LP 1:

Side 1
1. When We Were Younger 8:00
2. Sacred Blood 'Divine' Lies 6:28
3. Lost on the Road to Eternity 6:11

Side 2
1. Crazy Old Mothers 5:35
2. Without Love 6:14
3. Your Dreams Won't Die 5:42

LP 2:

Side 1
1. Peaches and Cream 5:09
2. How Far Jerusalem 10:46

Side 2
1. Les Morts Dansant 5:46
2. Show Me Your Hands 5:52
3. All England's Eyes 4:48

LP 3:

Side 1
1. Vigilante 5:24
2. Don't Wake the Lion (Too Old to Die Young) 11:43

Side 2
1. The Spirit 4:30
2. When the World Comes Down 6:11
CD :

1. When We Were Younger 8:00
2. Sacred Blood 'Divine' Lies 6:28
3. Lost on the Road to Eternity 6:11
4. Crazy Old Mothers 5:35
5. Without Love 6:14
6. Your Dreams Won't Die 5:42
7. Peaches and Cream 5:09
8. How Far Jerusalem 10:46

CD2:

1. Les Morts Dansant 5:46
2. Show Me Your Hands 5:52
3. All England's Eyes 4:48
4. Vigilante 5:24
5. Don't Wake the Lion (Too Old to Die Young) 11:43
6. The Spirit 4:30
7. When the World Comes Down 6:11


LINE-UP:

Tony Clarkin - guitars
Bob Catley - vocals
Rick Benton - keyboards
Al Barrow - bass
Lee Morris – drums