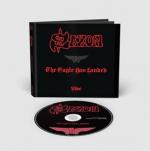 ДРУГИ НАЛИЧНИ АРТИКУЛИ НА
SAXON:





Artist: SAXON
Album: "THE EAGLE HAS LANDED LIVE RE-ISSUE (DIGI)"

Year: 1982/ 2018
EAN/UPS: 4050538408843
Media type: CD


Цена: 24.00 лв. (BGN)

Cat. No.: WIZ00022863
Label: ADA/ BMG
Genre: Heavy Metal/ NWOBHM



Статус: Артикулът е временно изчерпан!
Доставка до 30 дни.
Out of Stock
30 days delivery





Originally released in May 1982, The Eagle Has Landed was Saxon's first live album to be recorded and also the first album to feature long standing drummer, Nigel Glockler. Taking its name from the bands huge, eagle lighting rig it was recorded on the European leg of their Denim And Leather tour during 1981 and was mixed at Manor And Bray Sound Studio. It was an instant hit and reached number 5 in the UK charts upon its release. This edition features bonus live tracks recorded at London's, famous Hammersmith Odeon during, sold out Saxon headline concerts from 1981 and 1982.

TRACKLIST CD/ LP:

"Motorcycle Man"
"747 (Strangers In The Night)"
"Princess Of The Night"
"Strong Arm Of The Law"
"Heavy Metal Thunder"
"20,000Ft"
"Wheels Of Steel"
"Never Surrender"
"Fire In The Sky"
"Machine Gun"

Bonus tracks CD only:

"And The Bands Played On"
"See The Light Shining"
"Frozen Rainbow"
"Midnight Rider"
"Dallas 1pm"
"Hungry Years"