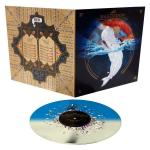 ДРУГИ АРТИКУЛИ НА
MASTODON:





Artist: MASTODON
Album: "LEVIATHAN BLUE/ BONE VINYL RE-ISSUE (LP)"

Year: 2004/ 2018
EAN/UPS: 781676662210
Media type: LP


- PRESSING INFO: Fifteenth Press - 2500 x Royal Blue and Bone White Half 'n Half with Metallic Gold, Blood Red and Orange Splatter Standard Gram [!]

Цена: 36.00 лв. (BGN)

Cat. No.: WIZ00022664
Label: Relapse
Genre: Progressive/ Instrumental Metal, Doom/ Stoner/ Sludge Metal



Статус: Артикулът е временно изчерпан!
Доставка до 30 дни.
Out of Stock
30 days delivery




Leviathan is a concept album by Sludge metal band Mastodon, released in 2004 by Relapse Records. The album is based on the Herman Melville novel Moby-Dick, with the songs: "Iron Tusk", "Blood and Thunder" and "Seabeast" released as singles. Three magazines awarded it Album of the Year in 2004: Revolver, Kerrang!, and Terrorizer.

The album brought Mastodon great critical acclaim and, thanks to the ensuing tour, a considerably larger fan base. Leviathan has sold 103,000 copies as of September, 2006. Guitarist Bill Kelliher considers this album to represent the water element.

The White Tower seen in the artwork on the inside cover of the booklet is a revamped version of Martin Heemskerck's 16th century interpretation of the Pharohs of Alexandria. The wave seen in the full picture of the artwork is a reflection of Hokusai's The Great Wave off Kanagawa. All songs written and composed by Mastodon.

SIDE A:

1. "Blood and Thunder" 3:49
2. "I Am Ahab" 2:45
3. "Seabeast" 4:15
4. "Нsland" 3:27
5. "Iron Tusk" 3:03
6. "Megalodon" 4:22

SIDE B:

7. "Naked Burn" 3:43
8. "Aqua Dementia" 4:12
9. "Hearts Alive" 13:39
10. "Joseph Merrick" 3:33

LINE-UP:

Brann Dailor – drums
Bill Kelliher – guitar, vocals
Brent Hinds – guitar, vocals
Troy Sanders – bass guitar, vocals

Guest musicians:
Scott Kelly (Neurosis) – additional vocals on "Aqua Dementia"
Neil Fallon (Clutch) – additional vocals on "Blood and Thunder"
Matt Bayles – organs on "Joseph Merrick"
Phil Peterson – cello on "Aqua Dementia"