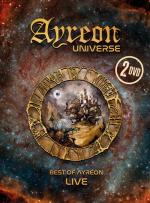 ДРУГИ НАЛИЧНИ АРТИКУЛИ НА
AYREON:





Artist: AYREON
Album: "AYREON UNIVERSE LIVE (2DVD DIGI)"

Year: 2018
EAN/UPS: 819873016502
Media type: DVD


- Ayreon is the highly acclaimed project from singer/songwriter/multi-instrumentalist / record producer Arjen Lucassen. Ayreon Universe is the best of Ayreon Live - A unique performance featuring 16 singers, 28 songs, 2+ hour performance, 9000+ fans and a special appearance by Arjen Lucassen himself. All of this captured by 30 cameras! Featuring: Floor Jansen (Nightwish), Damian Wilson (Threshold), Hansi Kursch (Blind Guardian), Tommy Karevik (Kamelot), Anneke van Giersbergen (VUUR, The Gentle Storm), Marco Hietala (Nightwish) among others [!]

Цена: 30.00 лв. (BGN)

Cat. No.: WIZ00022294
Label: Mascot Label Group
Genre: Progressive/ Instrumental Metal, Symphonic/ Neo Classical Heavy Metal



Статус: Наличен / In Stock




This unique performance features 16 singers, 28 songs, an 8 piece band and a special appearance by Arjen. The duration of the show was more than 2 hours. It was filmed with 30 cameras and will be released on DVD and Blu-ray with 5.1 surround audio, with an extensive list of extras, including a behind-the-scenes documentary with interviews with every singer and musician, and a compilation of the try-out show performed a few weeks earlier.

Two years in the making, Ayreon Universe is a full on rock extravaganza, featuring songs from all Ayreon albums, including 2017's 'The Source', plus a few fan favorites from Star One. An amazing array of singers appeared on stage to bring the Ayreon Universe to life: Floor Jansen (Nightwish), Damian Wilson (Threshold), Hansi Kursch (Blind Guardian), Tommy Karevik (Kamelot), Anneke van Giersbergen (The Gentle Storm, VUUR), Marco Hietala (Nightwish), Jonas Renkse (Katatonia), Mike Mills (Toehider), Marcela Bovio (Stream of Passion), Irene Jansen, Robert Soeterboek (Star One), John Jaycee Cuijpers (Praying Mantis), Edward Reekers (ex-Kayak), Jay van Feggelen, Maggy Luyten (Nightmare) and Lisette van den Berg (Scarlet Stories).
This is the show every Ayreon fan has wanted to see and hear!


TRACKLIST ALL FORMATS:

1 Prologue
2 Dreamtime
3 Abbey Of Synn
4 River Of Time
5 The Blackboard
6 The Theory Of Everything
7 Merlin's Will
8 Waking Dreams
9 Dawn Of A Million Souls
10 Valley Of The Queens
11 Ride The Comet
12 Star Of Sirrah
13 Comatose
14 Loser
15 And The Druids Turned To Stone
16 The Two Gates
17 Into The Black Hole
18 Actual Fantasy
19 Computer Eyes
20 Magnetism
21 Age Of Shadows
22 Intergalactic Space Crusaders
23 Collision
24 Everybody Dies
25 The Castle Hall
26 Amazing Flight in Space
27 Day Eleven: Love
28 The Eye Of Ra


3LP + MP3
Side A: Track 01 – 06
Side B: Track 07 – 11
Side C: Track 12 – 15
Side D: Track 16 – 20
Side E: Track 21 – 24
Side F: Track 25 – 28

2CD Jewelcase
CD 1: Track 01 – 15
CD 2: Track 16 – 28

2DVD
DVD 1: Full show
DVD 2: Behind the scenes (1:24:30)
and Try-out show highlights (17:16)

Blu-ray
All the contents of the 2DVD