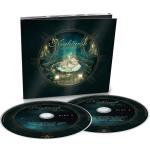 ДРУГИ НАЛИЧНИ АРТИКУЛИ НА
NIGHTWISH:





Artist: NIGHTWISH
Album: "DECADES - BEST OF 1996 - 2015 (2CD DIGI)"

Year: 2018
EAN/UPS: 727361405700
Media type: CD


- Tuomas Holopainen's 3-track demo earned him his first record deal with his freshly founded band NIGHTWISH back in 1996. 20 years later - with over 2,000 shows played and more than 8 million records sold - NIGHTWISH are the biggest European symphonic metal band. Reason enough for Nuclear Blast to celebrate this huge anniversary by releasing a 2CD compilation titled »Decades«, on March 9th, 2018 [!]

Цена: 28.00 лв. (BGN)

Cat. No.: WIZ00022135
Label: Nuclear Blast
Genre: Epic Pagan Viking Metal/ Folk Metal, Symphonic/ Neo Classical Heavy Metal, Female Heavy Metal



Статус: КОЛИЧЕСТВАТА ОТ ТОЗИ ФОРМАТ/АРТИКУЛ
СА ОКОНЧАТЕЛНО ИЗЧЕРПАНИ
И НЕ МОГАТ ДА БЪДАТ ДОСТАВЕНИ [!]
Permanently Out of Stock!




Let's be honest; it does not take any overstated words to present this exceptional band to the world out there, for they are the undisputed pioneers of symphonic metal and the icons of a whole genre. Their virtuosity is consummate perfection, their inspiration lived passion! NIGHTWISH truly understand how to captivate and enchant within seconds. Since the beginning of their career, which started on a mild summer night in July 1996, they have been regarded as the epitome of the most demanding, compositional music art and innovative sound ventures. When creative mind Tuomas Holopainen was sitting around the campfire with friends on a small island in the middle of the tranquil Lake Pyhäjärvi in Kitee and improvising a bit, he probably could not have guessed where this journey would take him.

Meanwhile, more than 20 years have passed and the visions of the ambitious musician have long been an impressive reality, manifesting themselves on eight fantastic studio albums. With NIGHTWISH, the Finnish songwriter is able to create breath-taking sound cascades with cinematic imagery, combining epic bombast with opulent metal attitudes in beautiful melodic symphonies. NIGHTWISH forged their own style long ago; often imitated, never duplicated! Mastermind Tuomas Holopainen is not just an excellent and unique composer; he is open to new influences and eager to experiment with the unknown. These are some of the key components of success for the band, which was always ahead of its time and not only set new standards with its latest album »Endless Forms Most Beautiful«, but also created a monumental masterpiece. Never before has a band merged the most complex elements of classic, soundtrack and metal so consistently and brought such a powerful result to life.

Now it's time to take a look back and review the last 20 years in a musical way. In keeping with their upcoming 2018 world tour, NIGHTWISH will release a brilliant best of work called »Decades«, which unites the most important songs of the band on two CDs in their original versions. The Suomi sound makers have always been recognised for their exciting journey of discovery and as a tribute to all that, this release presents a phenomenal cross-section of this formidable career through the lens of their grandiose evolution.


TRACKLIST CD1:

1 - The Greatest Show On Earth (Remastered) 23:59
2 - Élan (Remastered) 4:47
3 - My Walden (Remastered) 4:41
4 - Storytime (Remastered) 5:30
5 - I Want My Tears Back (Remastered) 5:11
6 - Amaranth (Remastered) 3:57
7 - The Poet And The Pendulum (Remastered) 13:54
8 - Nemo (Remastered) 4:36
9 - Wish I Had An Angel (Remastered) 4:02

TRACKLIST CD2:

1 - Ghost Love Score (Remastered) 10:02
2 - Slaying The Dreamer (Remastered) 4:34
3 - End Of All Hope (Remastered) 4:23
4 - 10th Man Down (Remastered) 5:29
5 - The Kinslayer (Remastered) 4:09
6 - Dead Boy's Poem (Remastered) 6:52
7 - Gethsemane (Remastered) 5:22
8 - Devil & The Deep Dark Ocean (Remastered) 4:46
9 - Sacrament Of Wilderness (Remastered) 4:14
10 - Sleeping Sun (Remastered) 4:33
11 - Elvenpath (Remastered) 4:42
12 - The Carpenter (Remastered) 6:00
13 - Nightwish (Demo, Remastered) 5:48