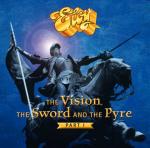 Artist: ELOY
Album: "THE VISION, THE SWORD AND THE PYRE - PART 1 (CD)"

Year: 2017
EAN/UPS: 4046661488029
Media type: CD

Цена: 26.00 лв. (BGN)

Cat. No.: WIZ00021691
Label: Artist Station
Genre: Progressive/ NEO Progressive/ Instrumental Rock, Melodic Hard Rock/ AOR



Статус: Наличен / In Stock





"The Vision, The Sword and the Pyre" - The Rock Opera about Joan of Arc On the 25 August 2017 Part 1 the album The Vision, the Sword and the Pyre will be released onto the music market. This first version of an epic project is an interpretation by the pioneering German progressive rock band ELOY.

Composed, directed and produced by Frank Bornemann, head of the internationally respected German rock legend, the work is dedicated to the life and acts of the late Middle Age French heroine Joan of Arc, canonised in 1920, and combines unique musical complexity with absolute and unbiased historical precision.

Neither the band nor the stage production contain the type of sung dialogue common to most musicals and rock operas, and this decision, according to the author, distances it from all previous works in the genre and frees up more powerful and expressive possibilities. The historical figures express their thoughts through song with poetic and lyrical refinement. The few spoken passages are likewise accentuated by correspondingly atmospheric music. All the titles of course contain vocal contributions that lead the listener through the action, from brachial choirs a la Carl Orff to delicate children's voices.

A further innovation is surely the involvement of numerous and illustrious guests on the band album. This makes for many truly exceptional and surprising moments on the band album. Among the highlights are the emotionally moving passages from Alice Merton as Joan of Arc. The Canadian singer is currently enjoying sensational chart success in Germany and increasingly internationally. Award-winning German blues queen Jessy Martens also makes an impressive solo contribution. While the list of special contributions goes on, not everything needs to be given away here. In
this way, the first encounter with this extraordinary work will remain a surprising adventure.

TRACKLIST CD:

1. The age of the Hundred Years' War
2. Domremy on the 6th of January 1412
3. Early signs ... from a longed for miracle
4. Autumn 1428 at home
5. The call
6. Vaucouleurs
7. The ride by night ... towards the predestined fate
8. Chinon
9. The prophecy
10. The sword
11. Orléans
12. Les Tourelles
13. Why?