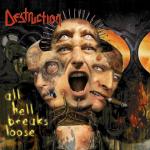 ДРУГИ НАЛИЧНИ АРТИКУЛИ НА
DESTRUCTION:





Artist: DESTRUCTION
Album: "ALL HELL BREAKS LOOSE RE-ISSUE (DIGI)"

Year: 1999/ 2010
EAN/UPS: 5907785035966
Media type: CD


Цена: 20.00 лв. (BGN)

Cat. No.: WIZ00021485
Label: Metal Mind
Genre: Thrash Metal/ Speed



Статус: Артикулът е временно изчерпан!
Доставка до 30 дни.
Out of Stock
30 days delivery




TRACKLIST CD:

1. Intro
2. The Final Curtain
3. Machinery Of Lies
4. Tears Of Blood
5. Devastation Of Your Soul
6. The Butcher Strikes Back
7. World Domination Of Pain
8. X-treme Measures
9. All Hell Breaks Loose
10. Total Desaster 2000
11. Visual Prostitution
12. Kingdom Of Damnation

BONUS TRACKS:

13. Mad Butcher
14. Total Desaster
15. Antichrist
16. Frontbeast
17. Satans Vengeance
18. Tormentor


Destruction:
Schmier (vocals, bass); Mike Sifringer (guitar); Sven Vormann (drums).

Additional personnel:
Peter Tagtgren (vocals, guitar).

Recorded at Abyss Studios, Parlby, Sweden in December 1999.