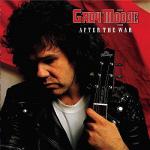 ДРУГИ НАЛИЧНИ АРТИКУЛИ НА
GARY MOORE:





Artist: GARY MOORE
Album: "AFTER THE WAR VINYL RE-ISSUE 2017 (LP)"

Year: 1989/ 2017
EAN/UPS: 00602557071085
Media type: LP


- LP 180g vinyl reissue of studio album by Gary Moore, originally released in 1989 [!]


Цена: 44.00 лв. (BGN)

Cat. No.: WIZ00021462
Label: Virgin
Genre: Melodic Hard Rock/ AOR, Hard Rock



Статус: Наличен / In Stock




After The War is an album by Irish blues-rock guitarist Gary Moore, released in 1989. Like Moore's prior album Wild Frontier, this album contains elements of his celtic roots.

The track "Led Clones" with Ozzy Osbourne on lead vocals, pokes fun at bands such as Kingdom Come and Whitesnake who were quite popular at the time and were based on a Led Zeppelin type sound and image. Moore again pays tribute to the memory of his long time friend and colleague Phil Lynott with the song "Blood of Emeralds".

"After The War" is the last conventional hard rock album by Moore prior to his departure Back to the Blues, the title of his subsequent album and several others until the 1997 release of Dark Days in Paradise.

All songs by Gary Moore, except where noted.

SIDE 1:

"Dunluce Pt. 1"(instrumental) – 1:17
"After the War" – 4:17
"Speak for Yourself" (Gary Moore, Neil Carter) – 3:42
"Livin' on Dreams" – 4:14
"Led Clones" (Gary Moore, Neil Carter) – 6:07

SIDE 2:

"The Messiah Will Come Again"(instrumental) - (Roy Buchanan) – 7:29
"Running from the Storm" – 4:45
"This Thing Called Love" – 3:22
"Ready for Love" – 5:39
"Blood of Emeralds" (Gary Moore, Neil Carter) – 8:19
"Dunluce Pt. 2"(instrumental) – 3:50

LINE-UP:

Gary Moore - guitar, vocals
Neil Carter - keyboards, vocals
Bob Daisley - bass
Cozy Powell - drums
Ozzy Osbourne - lead vocals on "Led Clones", backup vocals on "Speak for Yourself"