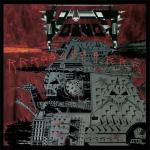 Artist: VOIVOD
Album: "RRROOOAAARRR DELUXE RE-ISSUE (2CD+DVD DIGI)"

Year: 1986/ 2017
EAN/UPS: 4050538214475
Media type: CD

- ВРЕМЕННО НАМАЛЕНИЕ!! ВАЖИ ДО ИЗЧЕРПВАНЕ НА ОПРЕДЕЛЕНИТЕ КОЛИЧЕСТВА!!

Цена: 26.00 лв. (BGN)

Cat. No.: WIZ00021193
Label: Pledge/ BMG
Genre: Progressive/ Instrumental Metal, Thrash Metal/ Speed



Статус: Артикулът е временно изчерпан!
Доставка до 30 дни.
Out of Stock
30 days delivery





Rrröööaaarrr is the band's 2nd studio album, released on Noise records in 1986. This sophomore album features their unique blend of thrash, electronic & industrial soundscapes creating a primordial fusion of progressive metal. This definitive issue of VOIVOD's second album is a must-have item for any fan of this unique and ground-breaking Progressive Metal band. The 2CD/DVD Set vividly captures the period surrounding this album and details the band's early development within their native Canada plus their first live 'assaults' across the border into the US.

Along with a previously unreleased complete show – the 'Spectrum '86 'No Speed Limit Week-End' concert from Montreal – the set also includes a complete demo of the 'RRROOOAAARRR' album, band rehearsal tracks and a 'never-before-heard' sound-collage from the tapes of Piggy, Voivod's late lamented guitarist. The set also contains tantalising early video footage of several live concerts from the band both in Canada & the US, the grainy films providing a unique insight into this developmental world of 'the' VOIVOD. The album has been re-mastered from the original tapes, pressed on high quality heavy-weight vinyl and the artwork has replicated the original release.


CD1:

• Korgull the Exterminator
• Fuck Off and Die
• Slaughter in a Grave
• Ripping Headaches
• Horror
• Thrashing Rage
• The Helldriver
• Build Your Weapons
• To the Death!


CD2 – Spectrum '86 – 'No Speed Limit Week-End'; Live at Montreal, October '86:

• Korgüll the Exterminator
• Ripping Headaches
• Blower
• Fuck Off and Die
• Tornado
• Iron Gang
• War and Pain
• Warriors of Ice
• Nuclear War
• Overreaction
• The Helldriver
• Ravenous Medicine
• Voivod
• Thrashing Rage


DVD:

Audio:
• Rrröööaaarrr Rough Mix Demo 1985
• Anachronism Live 25.06.86 (first show)
• Early Rehearsals 1983-1984
• Piggy Sound Collage 1980

Video:
• Live, NYC, N.Y., USA – 05/05/86; First U.S. Show
• Live, Long Beach, C.A., USA – 06/13/86
• Live, Jonquiere High School, QC, Canada, 12/20/84; Morgoth Invasion
• Live, Jonquiere Cultural Center QC, Canada, 01/27/84; To the Death!
• Slideshows: Artwork (1983 – 1986) + Live & Studio Photos (1985 – 1986)

NTSC/PAL region 0.