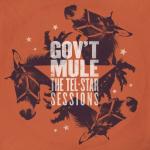 ДРУГИ НАЛИЧНИ АРТИКУЛИ НА
GOV'T MULE:





Artist: GOV'T MULE
Album: "THE TEL-STAR SESSIONS (DIGI)"

Year: 2016
EAN/UPS: 819873013426
Media type: CD


- CD in 4 panel digipack with 16 page full color booklet [!]


Цена: 24.00 лв. (BGN)

Cat. No.: WIZ00020452
Label: Mascot Label Group
Genre: Southern Rock/ Blues



Статус: Наличен / In Stock




- MULE'S PREVIOUSLY UNRELEASED FIRST RECORDINGS FROM 1994! THE TEL-STAR SESSIONS ARE REMIXED & MASTERED [!]

- Recorded at Telstar Studios, Sarasota, Florida 1994 in the original line-up featuring Warren Haynes on vocals and guitar, Allen Woody (bass), and drummer Matt Abts.
- Gov't Mule albums has sold over 1,500,000 albums to date.
- Mule has a very loyal and engaged fan base with 364.000+ Facebook followers / 39.000+ Twitter followers / 140,000+ email list subscribers.
In early summer of 1994, while on break from Allman Brothers work, the original Mule line-up of Warren Haynes, Allen Woody, and Matt Abts assembled at Tel-Star Studios outside Sarasota, Florida, to lay down on tape their vision to exhume the rock power trio – their influences ranging from Cream and Jimi Hendrix Experience to Blue Cheer and ZZ Top.

Says Warren, "Allen Woody had plenty of ideas in that department -- starting with simultaneously bringing back the 'rock bass' sound. Along with our discussions about the 'power trio' being missing from the current musical landscape were the discussions of how the sound of the bass guitar had gotten progressively 'cleaner' since the '80s (or late '70s), and how that affected the overall feeling of the music. So, when we went in to the studio to do our first recording sessions, part of our mission was to capture an old familiar sound as well."

What resulted from those sessions was the key soundscape of the band's rawness and excitement that Mule fans will love: straight-ahead rock- and blues-based song structures, explorative but tight and tough as a clenched fist. And while their search for that old familiar sound bore great creative fruit, these recordings also reflect the times in which they were recorded.

TRACKLIST:

01 Blind Man In The Dark
02 Rocking Horse
03 Monkey Hill
04 Mr. Big
05 Mother Earth
06 Just Got Paid
07 Left Coast Groovies
08 World Of Difference
09 The Same Thing
10 World Of Difference (alternate/original mix)