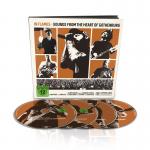 ДРУГИ АРТИКУЛИ НА
IN FLAMES:





Artist: IN FLAMES
Album: "SOUNDS FROM THE HEART OF GOTHENBURG LTD. EARBOOK (BLURAY+DVD+2CD BOOK)"

Year: 2016
Media type: CD


- LIMITED EARBOOK available incl. BluRay, DVD, 2 CDs, extended 36 pages artwork [!] - REL. DATE: 23 SEPTEMBER [!]

Цена: 44.00 лв. (BGN)

Cat. No.: WIZ00020344
Label: Nuclear Blast
Genre: Heavy Metal/ NWOBHM, Old Skull/ Melodic Death Metal



Статус: Артикулът е временно изчерпан!
Доставка до 30 дни.
Out of Stock
30 days delivery




- NUCLEAR BLAST EXCLUSIVE ONE-SHOT WINTER CAMPAIGN! ЕДНОКРАТНО НАМАЛЕНИЕ!! СЛЕД ИЗЧЕРПВАНЕ НА ОПРЕДЕЛЕНИТЕ КОЛИЧЕСТВА ЦЕНАТА СЕ ВРЪЩА НА СТАРОТО НИВО!
They break the rules, reinvent themselves with every album and are considered to be Gothenburg's brightest metal pearl - since the early 90's, IN FLAMES have delivered a spectacular band progression which has seen them transform their sound from classic Melodic Death Metal to their current modern and unique style. The Swedes never cease to challenge their artistic boundaries, never looking back and taking every possible risk.

While their early work was dominated by growling vocals and intense speed, IN FLAMES soon developed a progressive approach to their music, adding clean vocals to the choruses and creating unforgettable hymns such as 'The Quiet Place' or 'Trigger'. And since the band is never standing still, it was time for them to build a monument in honor of their current sound – the result is the exquisite »Sounds From The Heart Of Gothenburg« DVD, before the band move on to other shores with their next full length record, which is due this autumn. The explosive live performance was filmed in November 2014, in front of a sold-out venue of 10,000 fans, right inside the Scandinavium – in the heart of their hometown Gothenburg, Sweden. The decision to preserve this home town show for all eternity on DVD was an easy one for the band:

"It's our home town and it's awesome to give something back to the city where we started," singer Anders Fridén explains. "It's a great venue to play and after the recording I realized that we don't know how long the old Scandinavium will still exist – it's going to be nice to have a memoir of that place, because it's such a legendary stadium. I went to tons of metal shows there over the past few decades; I've seen all my favorite bands there."

With a setlist of 20 songs and more than one and a half hours of live action, the Swedes tear through their entire band history. The newer songs 'Through Oblivion' and 'Rusted Nail' hammer down onto the heads of the fans, who know every lyric by heart, but of course the band also includes old school classics such as 'Cloud Connected' or the mind-blowing finisher 'Take This Life', to leave a sea of headbangers inside the giant arena.

BluRay/DVD:

01. In Plain View
02. Everything's Gone
03. Fear Is The Weakness
04. Trigger
05. Resin
06. Where The Dead Ships Dwell
07. With Eyes Wide Open
08. Paralyzed
09. Through Oblivion
10. Ropes
11. Delight And Angers
12. Cloud Connected
13. Only For The Weak
14. The Chosen Pessimist
15. The Quiet Place
16. When The World Explodes
17. Rusted Nail
18. The Mirror's Truth
19. Deliver Us
20. Take This Life

BluRay
1080p Full HD • PCM Stereo • Region: 0
Appr. 97 min running time

DVD
16:9 PAL • PCM Stereo• Region: 0
Appr. 92 min running time


CD1:

01. In Plain View
02. Everything's Gone
03. Fear Is The Weakness
04. Trigger
05. Resin
06. Where The Dead Ships Dwell
07. With Eyes Wide Open
08. Paralyzed
09. Through Oblivion
10. Ropes

CD2:

01. Delight And Angers
02. Cloud Connected
03. Only For The Weak
04. The Chosen Pessimist
05. The Quiet Place
06. When The World Explodes
07. Rusted Nail
08. The Mirror's Truth
09. Deliver Us
10. Take This Life


LINE-UP:

Anders Fridén | vocals
Björn Gelotte | guitars
Peter Iwers | bass
Niclas Engelin | guitars