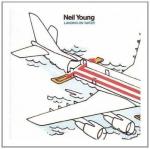 Artist: NEIL YOUNG
Album: "LANDING ON WATER (CD)"

Year: 1986
EAN/UPS: 0720642410929
Media type: CD

- МЕГА РАЗПРОДАЖБА!! ВАЖИ ДО ИЗЧЕРПВАНЕ НА ОПРЕДЕЛЕНИТЕ КОЛИЧЕСТВА!!

Цена: 16.00 лв. (BGN)

Cat. No.: WIZ00019970
Label: Geffen
Genre: Classic Rock/ Mainstreem/ Retro Rock



Статус: Артикулът е временно изчерпан!
Доставка до 30 дни.
Out of Stock
30 days delivery





A big, bombastic synth-rock album by Neil Young? Linn drums? Synth bass? Coming, as it did, immediately after Young settled out of court with a record company that had sued him for making non-commercial records, LANDING ON WATER could easily be seen as not only the oddest of Young's mid-'80s streak of oddball records, but also as a big joke, the punch line being, "Here's your commercial album, Mr. Geffen. Have fun selling it." Or maybe he actually means it: "Hippie Dream," whose chorus goes, "The wooden ships/Were just a hippie dream," puts a bullet through the memory of his old folkie buddies Crosby, Stills & Nash. And while "Pressure" does a pretty good imitation of Billy Joel's synth-rock hit "Pressure," it's followed by "Drifter," which manages to put a bullet through the much more recent memory of David Geffen ("Don't try to tell me what I gotta do to fit") while effectively updating an ON THE BEACH-ish blues structure for the electronic age. In short it is, despite all appearances, a Neil Young album, and it foreshadows the giant rebirth that was about to come.

TRACKLIST:

1. Weight Of The World
2. Violent Side
3. Hippie Dream
4. Bad News Beat
5. Touch The Night
6. People On The Street
7. Hard Luck Stories
8. I Got A Problem
9. Pressure
10. Drifter


Neil Young, Danny Kortchmar (vocals, guitar, synthesizer)
Steve Jordan (vocals, synthesizer, drums)
San Fransisco Boys Chorus (background vocals)

Recorded at Record One, Los Angeles, California.
All tracks have been digitally remastered.