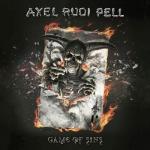 ДРУГИ НАЛИЧНИ АРТИКУЛИ НА
AXEL RUDI PELL:


Artist: AXEL RUDI PELL
Album: "GAME OF SINS (CD)"

Year: 2016
EAN/UPS: 886922692925
Media type: CD

- МЕГА РАЗПРОДАЖБА!! ВАЖИ ДО ИЗЧЕРПВАНЕ НА ОПРЕДЕЛЕНИТЕ КОЛИЧЕСТВА!!

Цена: 18.00 лв. (BGN)

Cat. No.: WIZ00019502
Label: SPV
Genre: Hard Rock, Melodic Heavy Metal



Статус: Артикулът е временно изчерпан!
Доставка до 30 дни.
Out of Stock
30 days delivery





It was to be the highlight of his career. And it is. When Axel Rudi Pell celebrated his first 25 years as a solo artist with a 3-hour-plus show in Balingen/Germany on 11 July 2014, he not only awed the 15,000 fans in front of the stage. Released on 24 April 2015, the live recording of this once-in-a-lifetime concert entitled "Magic Moments" went straight to # 1 in the German and Swedish DVD charts, # 4 in Switzerland, # 7 in Austria, and # 17 in the Netherlands. Anybody expecting Axel to rest on his laurels after that spectacular feat doesn't know the man and his work ethic.

Already collecting ideas in the summer of 2014, he ensconced himself in the studio again in fall 2015. "Everything went according to plan," he smiles. So nothing went wrong? Nothing new on the ARP front? Again, the objective observer doesn't know Axel. Anyone assuming that he would invite his numerous festival guests on his next studio album for another anniversary celebration knows nothing about the man. ARP can do it on his own. And he wants to do it on his own. "I never even thought of having guest musicians on this album," he explains. And why should he? Since Bobby Rondinelli (ex-Rainbow/Black Sabbath/Blue Öyster Cult) joined the ARP fold in 2013, the band sounds tighter than ever because "Bobby fits like a glove". Pell points out that Rondinelli is the perfect drummer who always knows exactly what to play; on "Game Of Sins" even more so than on the predecessor album "Into The Storm" (released in 2014, # 5 in Germany).

So it comes as no surprise that Axel's 16th studio recording featuring original material is a definite winner. "Everybody involved agrees," he grins. "There's not a single filler on the album." Which apparently was not the case on some of his previous offerings, as he admits with a smirk. "Game Of Sins" is way harder, grittier, the songwriting even more accomplished, experience meeting excellence again. Especially sound-wise, ARP appears to have made a quantum leap: "Looking back, I have to admit that the drums on the last album stayed too much in the background," a fact which has changed for the better: they sound much fuller and much more aggressive this time around and have been adapted to suit the new songs. Having said that, this album is a must-have not only for air drummers – riff fetishists and solo aficionados will also love ARP's new material. And it's no secret that vocalist Johnny Gioeli counts among the best of his profession. All in all, "Game Of Sins" presents a band at the peak of its powers.

Although the sleeve and the intro "Lenta Fortuna" (Latin for bad luck) may suggest that this is a concept album about gambling – it is not. "Game Of Sins" is ARP at his best: the sirens in the metallic opener "Fire" are a perfect wake-up call, "Sons In The Night" with its "Sons Of Anarchy"-inspired lyrics pays tribute to the NWOBHM. The title track is the longest number on the album, nine minutes of those epic structures and Arabian scales which Pell is so fond of. "Falling Star" once again refers to the early 80s. Is there an ARP album without a ballad? They may well be one day, but as long as Axel writes beautiful specimen such as "Lost In Love", there's bound to be one. Among the recording's highlights features "The King Of Fools" with its his five minutes of pure emotion, a perfect symbiosis between steeliness and melody, with an unbelievable performance by Gioeli, but don't forget to listen to Axel's guitars on the verses! "Till The World Says Goodbye" again presents Pell in his element: an epic, almost dark and doomy ballad, a moving soundtrack for the Judgment Day. "Breaking The Rules" is another melodic rock song, before the regular album finishes with a slow number called "Forever Free". But the crowning glory is included in the Digipak format: ARP is the first musician to successfully deliver a real hard-rocking version of the almighty Bob Dylan/Jimi Hendrix classic "All Along The Watchtower"; which has been his heart's desire for a long time, as Axel explains. "That song is far from easy to arrange, but the result is definitely worth the effort." Or, to be more precise: "Everything went according to plan." What more can you ask? "Game Of Sins" is doubtlessly another highlight in ARP's career. And there are many more to come.

LINE-UP:

Johnny Gioeli - Lead and Backing Vocals
Axel Rudi Pell - Lead, Rhythm and Acoustic Guitars
Ferdy Doernberg - Keyboards
Volker Krawczak - Bass
Bobby Rondinelli - Drums


TRACKLIST DIGI/ CD:

1) LENTA FORTUNA (INTRO) 01:24
2) FIRE 05:34
3) SONS IN THE NIGHT 05:07
4) GAME OF SINS 08:43
5) FALLING STAR 05:14
6) LOST IN LOVE 06:07
7) THE KING OF FOOLS 04:58
8) TILL THE WORLD SAYS GOODBYE 07:40
9) BREAKING THE RULES 05:07
10) FOREVER FREE 08:29

11) Bonus track: ALL ALONG THE WATCHTOWER 06:03
- Only for the Limited Digipak edition!