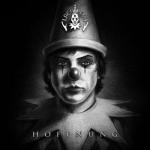 ДРУГИ НАЛИЧНИ АРТИКУЛИ НА
LACRIMOSA:





Artist: LACRIMOSA
Album: "HOFFNUNG DELUXE EDIT. (CD+DVD DIGI)"

Year: 2015
Media type: CD


- The deluxe edition of the upcoming Lacrimosa album "Hoffnung" comes in a digipack and contains a 28-page booklet as well the previously unreleased DVD "Live Mexico City - The movie" [!]


Цена: 40.00 лв. (BGN)

Cat. No.: WIZ00019438
Label: Hall Os Sermon
Genre: Dark Pop/ Rock/ New Wave, Gothic Melancholic Metal/ Rock



Статус: Артикулът е временно изчерпан!
Доставка до 30 дни.
Out of Stock
30 days delivery




LACRIMOSA don't celebrate their 25th anniversary with a regular best-of CD, but with a brand-new studio album, which the band has been working on since January 2015 together with a 60 person orchestra. The new album will be released in November and will show nearly all musical styles which Lacrimosa has shaped and defined during the last years. The anniversary was celebrated in Germany in the form of two concerts, one of which was sold out quickly and had to be relocated to the EVENTWERK in Dresden. Right after publishing the new album, the band with German lyrics will start their third world tour in 2016 and will be playing in Russia, China, Taiwan and 9 South American countries and subsequently also all over Europe.

After celebrating their anniversary in front of over 3,000 people in September, where the band already played two songs from the new album, LACRIMOSA will bring it out under the name "Hoffnung" ("hope"). The most ambitious work of the creator of Gothic Metal and co-founder of the Symphonic Metal was recorded with an Orchestra of more than 60 musicians during the period of an entire year. To achieve this – unlike other bands – Tilo Wolff (singer and composer of LACRIMOSA) did not rely on an external arranger for Orchestras but draws responsible for the entire scores for the orchestra recordings himself. And the result speaks for itself: Never before LACRIMOSA inflamed such a storm of brutal guitar riffs, driving drums and bombastic kettle drums in perfect harmony with powerful trombones and heartbreaking strings. So it's not a surprise that one of the musicians said during the recordings: "This is like Pirates of the Caribbean goes Metal"!

TRACKLIST CD:

1. Mondfeuer
2. Kaleidoskop
3. Unterwelt
4. Die unbekannte Farbe
5. Der Kelch der Hoffnung
6. Thunder and Lightning
7. Tranen der Liebe
8. Der freie Fall – Apeiron, Part 1
9. Keine Schatten kehr
10. Apeiron – Der freie Fall, Part 2

DVD:

"Live Mexico City - The movie"