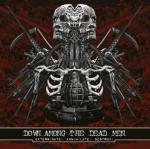 ДРУГИ НАЛИЧНИ АРТИКУЛИ НА
DOWN AMONG THE DEAD MEN:


Artist: DOWN AMONG THE DEAD MEN
Album: "EXTERMINATE! ANNIHILATE! DESTROY! (CD)"

Year: 2015
Media type: CD

Цена: 24.00 лв. (BGN)

Cat. No.: WIZ00019347
Label: Cyclone Empire
Genre: Old Skull/ Melodic Death Metal, Hardcore/ Crust Metal



Статус: Наличен / In Stock





- Merciless and massively killing second album of this Scandinavian Crust-Death supergroup! DOWN AMONG THE DEAD MEN offers the best possible mix of D-Beat Crust Punk and massive Death Metal a fan can hunger for!
- Music recorded at The Rotpit (Sweden) and vocals recorded in the Metal Breakfast Radio HQ (Denmark). The album has a powerfully
pounding and relentless production with tracks that pierce the flesh with their hooks and don't let go. The album features 2 cover songs that are also featuring guest vocals: First of all there is ANVIL´s "Forged In Fire" featuring Kam Lee (ex- MASSACRE, THE GROTESQUERY, BONE GNAWER) and then there is DISCHARGE´s classic "Protest and Survive" feat. Bob Thunder & Donovan Spenceley, both from Dave's radio show, Metal Breakfast Radio.
- Main man Dave Ingram is legendary for his vocal duties with two of the most legendary UK Death Metal outfits: BENEDICTION & BOLT THROWER !!! Also he is leading his long time running radio show METAL BREAKFAST RADIO!
- Rogga also appears or appeared in a lots of other bands like PAGANIZER, RIBSPREADER, THE GROTESQUERY, REVOLTING, DEMIURG, 11TH HOUR, EDGE OF SANITY, THOSE WHO BRING THE TORTURE, PUTREVORE or BONE GNAWE!
- For fans of: BOLT THROWER, BENEDICTION, VOMITORY, DAWN OF DECAY, DISCHARGE, PAGANIZER and anyone remotely interested in Science Fiction/Fantasy (Doctor Who!).

TRACKLIST:

01. Pyramids Of Mars
02. Warriors Of The Deep
03. The Oncoming Storm
04. The Ambassadors Of Death
05. Forged In Fire (ANVIL-Cover feat. guest vocals by Kam Lee)
06. Arc Of Infinity
07. Death Seed
08. War Machines
09. Unearthly Child
10. Tooth And Claw
11. Armageddon Factor
12. Protest And Survive (DISCHARGE-Cover feat. guest vocals by Bob Thunder
& Donovan Spenceley)
13. Deadly Assassin
14. Exterminate! Annihilate! Destroy!