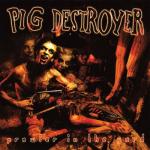 ДРУГИ НАЛИЧНИ АРТИКУЛИ НА
PIG DESTROYER:





Artist: PIG DESTROYER
Album: "PROWLER IN THE YARD DELUXE RE-ISSUE (2CD US-IMPORT)"

Year: 2001/ 2014
Media type: CD


Цена: 24.00 лв. (BGN)

Cat. No.: WIZ00019295
Label: Relapse
Genre: Grindcore, Hardcore/ Crust Metal



Статус: Наличен / In Stock





"the best grindcore act on the planet" - MetalSucks
"One of the Top 50 metal albums of the decade!" - Decibel
"One of the Top 15 grindcore albums of all time!" - Decibel
"The #3 grindcore album of all time!" - Terrorizer
"a quantum leap for the whole goddamn genre." - Pitchfork
"disgracefully gnarly and utterly brilliant" - Metal Hammer
"The kings of bludgeoning art grind...a fucking phenomenal extreme metal band" - KERRANG!



Deluxe reissue of Pig Destroyer's landmark 2001 Relapse debut 'Prowler In The Yard' fully remixed and remastered by guitarist/engineer Scott Hull complete with a recently unearthed never-before-heard bonus track from the Prowler sessions. Limited edition CD comes packaged as a 2CD set, with the original album included as the second disc--strictly limited to 2000 copies, featuring expanded artwork and layout, unreleased photos and liner notes from the band.

"the album that, with the help of Relapse, brought the band from the basement to the broader public eye via killer songs, unnerving atmosphere and a lyrical creepiness that saw Hayes emerge as one of extreme music's darkest and most poetic figures" - Decibel

Recommended if You Like: Napalm Death, The Melvins, Nails, Brutal Truth, Converge ...

TRACKLIST CD1:

1. Jennifer
2. Cheerleader Corpses
3. Scatology Homework
4. Trojan Whore
5. Ghost of a Bullet
6. Heart and Crossbones
7. Strangled With a Halo
8. Intimate Slavery
9. Mapplethorpe Grey
10. Tickets to the Car Crash
11. Naked Trees
12. Sheet Metal Girl
13. Preacher Crawling
14. Pornographic Memory
15. Murder Blossom
16. Body Scout
17. Snuff Film at Eleven
18. Hyperviolet
19. Starbelly
20. Junkyard God
21. Piss Angel
22. Jennifer 2
23. Unreleased Untitled

CD2 - the original album.