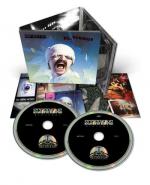 ДРУГИ НАЛИЧНИ АРТИКУЛИ НА
SCORPIONS:





Artist: SCORPIONS
Album: "BLACKOUT 50 ANN. EDIT. (CD+DVD DIGI)"

Year: 1982/ 2015
EAN/UPS: 4050538159325
Media type: CD


- Finally available again after many years! Completely remastered + 5 unreleased tracks, DVD with clips, unseen live material and new interviews + 16 page booklet with new liner notes, rare photos and memorabilia [!]

Цена: 34.00 лв. (BGN)

Cat. No.: WIZ00019246
Label: SPV/ BMG
Genre: Heavy Metal/ NWOBHM, Melodic Heavy Metal



Статус: КОЛИЧЕСТВАТА ОТ ТОЗИ ФОРМАТ/АРТИКУЛ
СА ОКОНЧАТЕЛНО ИЗЧЕРПАНИ
И НЕ МОГАТ ДА БЪДАТ ДОСТАВЕНИ [!]
Permanently Out of Stock!




BLACKOUT, released 1982, finally elevated the Scorpions into the top ranks of the hard rock world. While the album made it to number ten in the Billboard charts, the first single "No One Like You" did even better and went straight to number one. On BLACKOUT, the Scorpions strike a near perfect balance between raw and dynamic hard rock and their very own brand of beautiful power ballads. The album has it all, sheer aggressiveness, razor sharp guitars, powerful emotions and outstanding melodies. Thanks to heavy rocking tracks such as 'China White', 'Now' or 'Dynamite', the Scorpions became very popular not only with the traditional melodic hard rock crowd but also with the emerging heavy metal scene of the early 1980s. The success of BLACKOUT turned them into global superstars. The outstanding music was matched by the iconic cover-artwork created by the Austrian artist Gottfried Helnwein.

To celebrate their 50th band anniversary, the Scorpions are releasing a CD/DVD Deluxe Edition of BLACKOUT. The high quality Digipak not only contains the newly remastered original album tracks, but also five exciting bonus tracks. The band carefully selected the five pieces which have never been released before. Among them is a rather intriguing demo version of "Blackout". The other four are "Sugar Man", "All My Love", "Searching For The Rainbow" and "Running For The Plane".

The bonus DVD comprises of the legendary performance of the Scorpions in Dortmund's Westfalenhalle on 17 December 1983. Back then, German broadcaster ZDF aired the concert live as part of their 'Rock Pop in Concert' series. However, the footage that features the band at their very best has never been made available on tape or any other physical medium before. The DVD also includes an exclusive forty minutes interview in which the musicians talk about the recording of BLACKOUT and the events which at times threatened the entire project. Last but not least, video clips of "No One Like You" and "Arizona" complete the DVD.

An extensive 16 page booklet rounds the package off. It features liner notes written by Edgar Klüsener, a former editor of Germany's Metal Hammer, as well as rare photos and single covers, images of backstage passes and tour posters.

The LP comes in an original replica version with the CD in paper sleeve incl. all bonus tracks.


TRACKLIST CD:

1. Blackout 03:49
2. Can`t Live Without You 03:47
3. No One Like You 03:57
4. You Give Me All I Need 03:39
5. Now! 02:35
6. Dynamite 04:12
7. Arizona 03:56
8. China White 06:59
9. When The Smoke Is Going Down 03:51
10. Blackout – unreleased demo version (bonus track) 02:24
11. Running For The Plane – unreleased demo song (bonus track) 04:07
12. Sugar Man – unreleased demo song (bonus track) 04:23
13. All My Love – unreleased demo song (bonus track) 04:04
14. Searching For The Rainbow – unreleased demo song (bonus track) 03:52


DVD:

1. No One Like You (video clip) 03:57
2. Arizona (video clip) 04:30
3. Blackout 03:35 Rock Pop In Concert / TV show Dortmund Germany / 17.12.1983
4. Loving You Sunday Morning 04:50 Rock Pop In Concert / TV show Dortmund Germany / 17.12.1983
5. Coming Home 03:15 Rock Pop In Concert / TV show Dortmund Germany / 17.12.1983
6. Always Somewhere 04:15 Rock Pop In Concert / TV show Dortmund Germany / 17.12.1983
7. Holiday 03:00 Rock Pop In Concert / TV show Dortmund Germany / 17.12.1983
8. Can`t Live Without You 06:33 Rock Pop In Concert / TV show Dortmund Germany / 17.12.1983
9. Dynamite 06:20 Rock Pop In Concert / TV show Dortmund Germany / 17.12.1983
10. Can`t Get Enough 05:23 Rock Pop In Concert / TV show Dortmund Germany / 17.12.1983
11. Make It Real (not broadcasted) 03:36 Rock Pop In Concert / TV show Dortmund Germany / 17.12.1983
12. The Zoo (not broadcasted) 07:16 Rock Pop In Concert / TV show Dortmund Germany / 17.12.1983
13. Interview Special with Rudolf Schenker, Klaus Meine, Matthias Jabs, Herman Rarebell