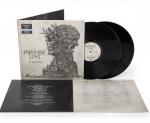 ДРУГИ НАЛИЧНИ АРТИКУЛИ НА
PARADISE LOST:





Artist: PARADISE LOST
Album: "THE PLAGUE WITHIN VINYL (2LP BLACK)"

Year: 2015
EAN/UPS: 5051099855519
Media type: LP


Цена: 32.00 лв. (BGN)

Cat. No.: WIZ00018695
Label: Century Media
Genre: Dark Pop/ Rock/ New Wave, Old Skull/ Melodic Death Metal, Gothic Melancholic Metal/ Rock



Статус: Артикулът е временно изчерпан!
Доставка до 30 дни.
Out of Stock
30 days delivery





Now returning with opus number fourteen "The Plague Within", PARADISE LOST are once again refining the chemical equation to their sonic alchemy with the kind of creative invincibility few can deliver. Blessed with stark contrasts of crushing heaviness and melancholic melodies, "The Plague Within" is a fantastic gothic metal opus, perfectly produced by Jaime Gomez Arellano (Ghost BC, Ulver, Cathedral) and visually rounded-off by art courtesy of Zbigniew M. Bielak (Watain, Behemoth).

LP 1 Side A:

01. No Hope In Sight (04:54)
02. Terminal (04:28)
03. An Eternity Of Lies (05:58)
04. Punishment Through Time (05:13)

LP 1 Side B:

01. Beneath Broken Earth (06:09)
02. Sacrifice The Flame (04:42)
03. Victim Of The Past (04:29)

LP 2 Side A:

01. Flesh From Bone (04:19)
02. Cry Out (04:31)
03. Return To The Sun (05:44)

LP 2 Side B:

Etched!