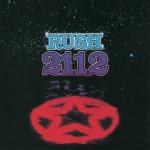 ДРУГИ НАЛИЧНИ АРТИКУЛИ НА
RUSH:





Artist: RUSH
Album: "2112 VINYL (LP BLACK)"

Year: 1976/ 2015
Media type: LP


- 180 Gram Heavyweight Vinyl incl. a voucher to Download High Res Digital Audio version of the album [!]



Цена: 46.00 лв. (BGN)

Cat. No.: WIZ00018539
Label: Mercury
Genre: Progressive/ NEO Progressive/ Instrumental Rock, Hard Rock



Статус: Артикулът е временно изчерпан!
Доставка до 30 дни.
Out of Stock
30 days delivery




The group's fourth album, first released in 1976, proved a breakthrough, highlighted by its seven-part title suite written by Lee and Lifeson, with lyrics by Peart, recounting a dystopian story set in the year 2112. It came in at #2 on Rolling Stone's list of "Your Favorite Prog Rock Albums of All Time." Most Rush fans consider it the band's definitive recording, as the album sold 3 million in the U.S., going triple-platinum.

All songs written by Neil Peart, except where noted.

SIDE ONE:

"2112" (Alex Lifeson, Geddy Lee, Neil Peart) – 20:37
"I: Overture" – 4:32
"II: The Temples of Syrinx" – 2:13
"III: Discovery" – 3:29
"IV: Presentation" – 3:42
"V: Oracle: The Dream" – 2:00
"VI: Soliloquy" – 2:21
"VII: Grand Finale" – 2:14

SIDE B:

"A Passage to Bangkok" (Alex Lifeson, Geddy Lee, Neil Peart) – 3:34
"The Twilight Zone" – 3:17
"Lessons" – 3:51
"Tears" – 3:31
"Something for Nothing" (Geddy Lee, Neil Peart)– 3:59


LINE-UP:

Geddy Lee - bass, keyboards, vocals
Alex Lifeson - guitar
Neil Peart - drums, percussion
Hugh Syme - mellotron on "Tears"