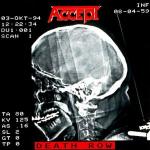 ДРУГИ НАЛИЧНИ АРТИКУЛИ НА
ACCEPT:





Artist: ACCEPT
Album: "DEATH ROW RE-ISSUE (CD)"

Year: 1994/ 2013
Media type: CD


Цена: 18.00 лв. (BGN)

Cat. No.: WIZ00018273
Label: Music On CD/ Sony
Genre: Heavy Metal/ NWOBHM, Melodic Heavy Metal



Статус: Артикулът е временно изчерпан!
Доставка до 30 дни.
Out of Stock
30 days delivery





Death Row is the tenth studio album by German heavy metal band Accept, released in 1994. It was recorded at Roxx Studios.

Stefan Kaufmann was still the official drummer for Accept, but drums on "Bad Habits Die Hard" and "Prejudice" are by Stefan Schwarzmann according to the liner notes. Stefan Kaufmann had to leave the band for the subsequent tour because of health problems, and Stefan Schwarzmann then handled drum duties.

TRACKLIST:

1 Death Row 5:17
2 Sodom & Gomorra 6:28
3 The Beast Inside 5:57
4 Dead On ! 4:52
5 Guns 'R' Us 4:40
6 Like A Loaded Gun 4:18
7 What Else 4:38
8 Stone Evil 5:22
9 Bad Habits Die Hard 4:41
10 Prejudice 4:14
11 Bad Religion 4:26
12 Generation Clash II 5:04
13 Writing On The Wall 4:25
14 Drifting Apart (Instrumental) 3:02
15 Pomp And Circumstance (Instrumental) 3:44


LINE-UP:

Udo Dirkschneider – vocals
Wolf Hoffmann – guitars
Peter Baltes – bass
Stefan Kaufmann – drums, engineer, mixing

Additional musicians:
Stefan Schwarzmann – drums on "Bad Habits Die Hard" and "Prejudice"