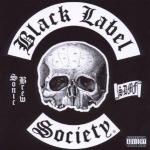 ДРУГИ АРТИКУЛИ НА
BLACK LABEL SOCIETY [ZAKK WYLDE]:





Artist: BLACK LABEL SOCIETY [ZAKK WYLDE]
Album: "SONIC BREW (CD)"

Year: 1999
Media type: CD


- ВРЕМЕННО НАМАЛЕНИЕ!! ВАЖИ ДО ИЗЧЕРПВАНЕ НА ОПРЕДЕЛЕНИТЕ КОЛИЧЕСТВА!!



Цена: 15.00 лв. (BGN)

Cat. No.: WIZ00017831
Label: Armory
Genre: Hard Rock, Southern Rock/ Blues, Doom/ Stoner/ Sludge Metal



Статус: Артикулът е временно изчерпан!
Доставка до 30 дни.
Out of Stock
30 days delivery




Around the late '90s/early 21st century, the traditional guitar solo in hard rock/heavy metal appeared to be a dying beast, as most bands were rejecting six-string leads in favor of focusing solely on detuned riffage (culminating a few years later with Metallica's sonic stinkbomb, St. Anger). But one early sign that the tide was changing was the arrival of the Zakk Wylde-led project Black Label Society, and their 1999 debut, Sonic Brew. Expectedly, the group is all about the almighty guitar -- loud 'n' proud riffs and solos abound -- while Wylde himself handles the vocal duties (and can alternate his voice between a more melodic Phil Anselmo on the heavier material, and a Southern rocker on the acoustic fare). The majority of the album's style is basically summed up with the opening track, "Bored to Tears," with a few detours along the way (such as acoustic guitar shredfest "T.A.Z.," and the Lynyrd Skynyrd-like ballad "Spoke in the Wheel"). With the arrival of Sonic Brew, a whole new era of guitarists practicing their speed and scales in their bedrooms would soon be ushered in.
TRACKLIST:
1 Bored To Tears 4:28
2 The Rose Petalled Garden 4:55
3 Hey You (Batch Of Lies) 3:53
4 Born To Lose 4:23
5 Peddlers Of Death 4:33
6 Mother Mary 4:26
7 Beneath The Tree 4:09
8 Low Down 5:04
9 T.A.Z 1:56
10 Better Half 4:24
11 Black Pearl 3:27
12 World Of Trouble 5:20
13 Spoke In The Wheel 4:13
14 The Beginning....At Last 4:26
15 No More Tears - bonus track