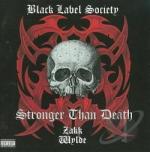 ДРУГИ АРТИКУЛИ НА
BLACK LABEL SOCIETY [ZAKK WYLDE]:





Artist: BLACK LABEL SOCIETY [ZAKK WYLDE]
Album: "STRONGER THAN DEATH (CD)"

Year: 2000
Media type: CD


- ВРЕМЕННО НАМАЛЕНИЕ!! ВАЖИ ДО ИЗЧЕРПВАНЕ НА ОПРЕДЕЛЕНИТЕ КОЛИЧЕСТВА!!



Цена: 15.00 лв. (BGN)

Cat. No.: WIZ00017830
Label: Armory
Genre: Hard Rock, Southern Rock/ Blues, Doom/ Stoner/ Sludge Metal



Статус: Артикулът е временно изчерпан!
Доставка до 30 дни.
Out of Stock
30 days delivery




For Black Label Society's sophomore effort, 2000s Stronger Than Death, Zakk Wylde and company (actually, only one other full member at the time, drummer Phil Ondich) offered another slab of guitar-heavy, headbanging metal. With many rock bands expanding their approach -- for better or for worse -- on subsequent albums, Stronger Than Death shed the few remaining Southern rock elements that were heard on Sonic Brew (undoubtedly left over from Wylde's Pride & Glory days). The riffs are meaty and the solos are furious, as heard on such tracks as the album-opening "All for You," "Counterfeit God" (which is a song about a subject that seemingly every single metal band has penned a song about -- televangelists), and the title track, the latter of which includes a vocal cameo from New York Mets slugger Mike Piazza. Stronger Than Death provided a firm confirmation that Black Label Society would be sticking closely to the guitar-heavy game plan from here on out.
TRACKLIST:
1 All For You 3:59
2 Phoney Smiles & Fake Hellos 4:16
3 13 Years Of Grief 4:11
4 Rust 6:08
5 Superterrorizer 5:33
6 Counterfeit God 4:18
7 Ain't Life Grand 4:39
8 Just Killing Time 4:55
9 Stronger Than Death 4:52
10 Love Reign Down 8:03