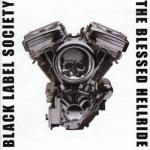 ДРУГИ АРТИКУЛИ НА
BLACK LABEL SOCIETY [ZAKK WYLDE]:





Artist: BLACK LABEL SOCIETY [ZAKK WYLDE]
Album: "THE BLESSED HELLRIDE (CD)"

Year: 2003
Media type: CD


- ВРЕМЕННО НАМАЛЕНИЕ!! ВАЖИ ДО ИЗЧЕРПВАНЕ НА ОПРЕДЕЛЕНИТЕ КОЛИЧЕСТВА!!



Цена: 15.00 лв. (BGN)

Cat. No.: WIZ00017829
Label: Armory
Genre: Hard Rock, Southern Rock/ Blues, Doom/ Stoner/ Sludge Metal



Статус: Артикулът е временно изчерпан!
Доставка до 30 дни.
Out of Stock
30 days delivery




Zakk Wylde's Black Label Society: Zakk Wylde (vocals, guitar, piano, bass); Craig Nunenmacher (drums).Additional personnel: Ozzy Osbourne (vocals). Recorded at Paramount Studios, Hollywood, California; Cartee Day Studios, Nashville, Tennessee, Amerayacan Studios, North Hollywood, California.Personnel: Zakk Wylde (vocals, guitar, piano, bass guitar); Craig Nunemacher (drums).Nu-metal be damned; Zakk Wylde might say there's only one kind of metal, and that's "heavy." On THE BLESSED HELLRIDE, the ex-Ozzy Osbourne guitarist's Black Label Society attempts to create nothing less than the ultimate mullet-sporting high school headbanger's dream album. Fans of old school, "strap on Les Paul/insert into Marshall stack/rock like hell" thrash mayhem will find a lot to love here, from the raw, aggressive monster guitar and drum sounds to the Black Sabbath-via-Judas Priest gargantuan riffs. The lyrics pretty much stick to the metal essentials: drugs, evil, supernatural forces, death, and oh yeah, more drugs. For those who find nu-metal suspiciously lacking in heft, THE BLESSED HELLRIDE provides a welcome fix of the hard stuff.
TRACKLIST:
1. Stoned and Drunk
2. Doomsday Jesus
3. Stillborn
4. Suffering Overdue
5. The Blessed Hellride
6. Funeral Bell
7. Final Solution
8. Destruction Overdrive
9. Blackened Waters
10. We Live No More
11. Dead Meadow