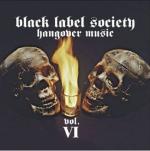 ДРУГИ АРТИКУЛИ НА
BLACK LABEL SOCIETY [ZAKK WYLDE]:





Artist: BLACK LABEL SOCIETY [ZAKK WYLDE]
Album: "VOL. VI: HANGOVER MUSIC (CD)"

Year: 2004
Media type: CD


- ВРЕМЕННО НАМАЛЕНИЕ!! ВАЖИ ДО ИЗЧЕРПВАНЕ НА ОПРЕДЕЛЕНИТЕ КОЛИЧЕСТВА!!



Цена: 15.00 лв. (BGN)

Cat. No.: WIZ00017828
Label: Armory
Genre: Hard Rock, Southern Rock/ Blues, Doom/ Stoner/ Sludge Metal



Статус: Артикулът е временно изчерпан!
Доставка до 30 дни.
Out of Stock
30 days delivery




Hangover Music Vol. VI is the fifth studio album by heavy metal band Black Label Society, released April 20, 2004. This album is a much more mellow affair than any other Black Label Society album, and some fans have recognized it as a nod back to Zakk Wylde's solo effort, Book of Shadows, from 1996. The album contains a piano version of Procol Harum's 1967 No. 1 "Whiter Shade of Pale" and a song entitled "Layne," which is written in memory of Layne Staley of Alice in Chains.
The song "No Other" is a leftover track from The Blessed Hellride sessions, which explains why Zakk Wylde played bass on this song, whereas other bassists played on the rest of the album. The song was also recorded, mixed, and mastered by the same team that was responsible for the production on The Blessed Hellride.
All music and lyrics by Zakk Wylde.
TRACKLIST:
1."Crazy or High" - 3:34
2."Queen of Sorrow" - 4:15
3."Steppin' Stone" - 4:54
4."Yesterday, Today, Tomorrow" - 3:43
5."Takillya (Estyabon)" - 0:39
6."Won't Find It Here" - 6:26
7."She Deserves a Free Ride (Val's Song)" - 4:19
8."House of Doom" - 3:46
9."Damage Is Done" - 5:20
10."Layne" - 5:15
11."Woman Don't Cry" - 5:39
12."No Other" - 4:59
13."A Whiter Shade of Pale" (Procol Harum cover)- 5:08
14."Once More" - 4:10
15."Fear" - 4:38
LINE-UP:
Zakk Wylde – vocals, guitars, bass (track 12), piano
Craig Nunenmacher – drums
John Tempesta – drums (track 14)
James LoMenzo – bass (tracks 3, 4, 6–8, 11, 15)
John DeServio – bass (tracks 2, 9, 10, 14)
Mike Inez – bass (track 1)