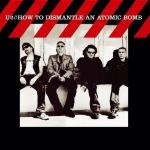 Artist: U2
Album: "HOW TO DISMANTLE AN ATOMIC BOMB (CD IMPORT)"

Year: 2004
Media type: CD


Цена: 24.00 лв. (BGN)

Cat. No.: WIZ00001782
Label: Universal
Genre: Soft Rock/ Pop, Classic Rock/ Mainstreem/ Retro Rock



Статус: Артикулът е временно изчерпан!
Доставка до 30 дни.
Out of Stock
30 days delivery




A return to bombast and stadium histrionics, there is little disarming about U2's eleventh album, How To Dismantle An Atomic Bomb. A rather predictable if undeniably effective guitar-fuelled romp, with long-time collaborator Steve Lillywhite at the production helm, the Irish quartet's follow up 2000's 11-million selling All That You Can't Leave Behind with much of the same, something that will delight fans of Rattle And Hum while frustrating those who preferred the beat-driven experimentalism and eminently more evocative lyricism that made Achtung Baby! grab attention.
While there is certainly no "One" here with Bono proving a less politically subtle songwriter than he obviously is a proven negotiator on the likes of "Love And Peace Or Else"; "We need love and peace/Lay down your guns," he chimes simply, he does reach the heartstrings on "Sometimes You Can't Make It On Your Own", a passionate ode to his dead father, and the equally sharp scribing "No I could never take a chance/Of losing love to find romance" on "A Man And A Woman."
As you might expect the production, assisted by the likes of Brian Eno, Daniel Lanois and Nellee Hooper, resounds with epic depth, while The Edge's trademark guitar sound rings throughout, cutting through the booming bass and honed rhythm section.
TRACKLIST CD:
1. Vertigo
2. Miracle Drug
3. Sometimes You Can't Make It On Your Own
4. Love And Peace Or Else
5. City Of Blinding Lights
6. All Because Of You
7. A Man And A Woman
8. Crumbs From Your Table
9. One Step Closer
10. Original Of The Species
See all 12 tracks on this disc