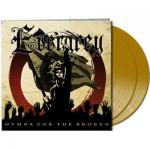 ДРУГИ АРТИКУЛИ НА
EVERGREY:





Artist: EVERGREY
Album: "HYMNS FOR THE BROKEN GOLD VINYL (2LP)"

Year: 2014
Media type: LP


- Stunning, brand new studio album by one of most unique and creative metal bands following 2011's "Glorious Collision". EVERGREY play a very own kind of dark melodic progressive/power metal, unmistakable in vocals and sound. "Hymns For The Broken" is the band's best sounding and most impressive release to date! Mixed and mastered by Jacob Hansen (Volbeat, Pretty Maids, Amaranthe, Primal Fear) [!]

- Ltd. Gatefold Vinyl: two colours (black and gold, each colour limited to 250 units) [!]

- DELETED [!]


Цена: 34.00 лв. (BGN)

Cat. No.: WIZ00017651
Label: AFM
Genre: Progressive/ Instrumental Metal, Power Heavy Metal, Melodic Heavy Metal



Статус: Артикулът е временно изчерпан!
Доставка до 30 дни.
Out of Stock
30 days delivery




Three and a half years after "Glorious Collision", acclaimed Swedish metallers EVERGREY return with their brand new piece of work, the concept album "Hymns For The Broken". As it is good tradition for the band, none of their albums does sound like the other - but they all have the typical EVERGREY trademarks: energetic riffs, strong melodies, clever arrangements, dark poetry and Tom S. Englund's unique voice towering above it all. "Hymns For The Broken" probably is their most atmospheric and intense album so far - and we speak of a band that has released classic albums such as "In Search For Truth", "Recreation Day" and "The Inner Circle". Mix and mastering this time was handled by Jacob Hansen (Volbeat, Pretty Maids, Amaranthe, Primal Fear) who undoubtedly made it the best sounding EVERGREY album ever.
TRACKLIST 2LP:
1. The Awakening
2. King of Errors
3. A New Dawn
4. Wake a Change
5. Archaic Rage
6. Barricades
7. Black Undertow
8. The Fire
9. Hymns for the Broken
10. Missing You
11. The Grand Collapse
12. The Aftermath