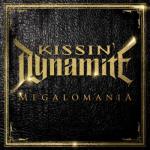 ДРУГИ АРТИКУЛИ НА
KISSIN' DYNAMITE:





Artist: KISSIN' DYNAMITE
Album: "MEGALOMANIA LTD. EDIT. (DIGI)"

Year: 2014
Media type: CD


- "MEGALOMANIA" is the fourth album of this young and exceptional band from Germany! Recorded and produced in the renowned Elephant Music Studios in cooperation with Sascha Paeth (Edguy, Avantasia, Epica, Kamelot) [!]
- Available as standard CD (Jewel Case), Digipak (+1 bonus track) [!]






Цена: 24.00 лв. (BGN)

Cat. No.: WIZ00017543
Label: AFM
Genre: Heavy Metal/ NWOBHM, Hard N Heavy/ Hair Metal/ Glam Rock



Статус: Артикулът е временно изчерпан!
Доставка до 30 дни.
Out of Stock
30 days delivery




Once, it only was the dream of five teenagers to found a band and together conquer the world. Since then, quite a bit has happened: With Steel of Swabia (2008), Addicted to Metal (2010) and Money, Sex & Power (2012), Kissin' Dynamite has released 3 LPs internationally, was represented in the Media Control Charts, played over 500 liveshows all over Europe and Asia and has had several TV-appearances. Kissin' Dynamite have earned a recognition which goes beyond borders, convincing with their energetic, thrilling performances. But now the time has come for something new! The time has come to leave old things behind and to open the next chapter in their career. The time has come to let go, to be open-minded and to make room for something that couldn't have been stopped anyway. They have never been this confident and they know: The time has come for Megalomania. This means Kissin' Dynamite in it's pure form: straight, true, unstoppable. With their fourth album, the band has arrived in 2014 and is going for it more than ever.
TRACKLIST:
1. DNA
2. Maniac Ball
3. VIP In Hell
4. Fireflies
5. Deadly
6. God In You
7. Running Free
8. Legion of the Legendary
9. The Final Dance
10. Ticket to Paradise
Bonus Track Ltd. Edition:
11. Gold Cage