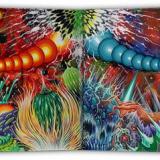 Artist: MASTODON
Album: "ONCE MORE `ROUND THE SUN VINYL (2LP)"

Year: 2014
EAN/UPS: 0093624937678
Media type: LP


- МЕГА РАЗПРОДАЖБА!! ВАЖИ ДО ИЗЧЕРПВАНЕ НА ОПРЕДЕЛЕНИТЕ КОЛИЧЕСТВА!!

Цена: 40.00 лв. (BGN)

Cat. No.: WIZ00017327
Label: Warner
Genre: Progressive/ Instrumental Metal, Alternative Rock/ Metal/ Post Grunge/ Drone, Doom/ Stoner/ Sludge Metal



Статус: Артикулът е временно изчерпан!
Доставка до 30 дни.
Out of Stock
30 days delivery




Atlanta progressive metallers MASTODON have announced details of their new album, their first since 2011's "The Hunter". The band's sixth CD will be called "Once More 'Round The Sun" and will be released by Reprise Records on June 24. It was recorded in Nashville with Grammy Award-winning producer Nick Raskulinecz, who is known for his work with RUSH, DEFTONES, FOO FIGHTERS and ALICE IN CHAINS.
The album's hard-hitting first single is "High Road", which was released digitally today (April 29), the same day a pre-order for "Once More 'Round The Sun" launches at all participating digital retailers. Pre-orders are being taken at MastodonRocks.com and all pre-orders will instantly receive a digital download of "High Road".
Also available on June 24 will be a stunning deluxe 2LP vinyl edition of "Once More 'Round The Sun". This limited edition will include two discs pressed onto 180-gram black vinyl housed in a quadruple gatefold vinyl jacket featuring artwork by renowned Oakland-based artist Skinner, who specializes in "psychedelic nightmare paintings," plus a CD of the complete album. The package will include four exclusive lithographs derived from the album artwork.
Those who preorder the deluxe vinyl edition will be entitled to bonus digital content: An instant download of "High Road", plus another album track (to be determined) delivered digitally prior to street date, and a download of the entire album delivered digitally on street date.
MASTODON singer and bassist Troy Sanders told Paste Magazine about the "Once More 'Round The Sun" cover artwork: "It's... a work of art for sure. It's... very eye-opening, very striking. It's from another dimension, and a lot of our music is geared toward that idea — taking you to another planet on songs. It's out there, and I think it's incredible."
TRACKLIST CD/ 2LP:
01. Tread Lightly
02. The Motherload
03. High Road
04. Once More 'Round The Sun
05. Chimes At Midnight
06. Asleep In The Deep
07. Feast Your Eyes
08. Aunt Lisa
09. Ember City
10. Halloween
11. Diamond In The Witch House (feat. Scott Kelly of NEUROSIS)