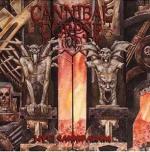 ДРУГИ НАЛИЧНИ АРТИКУЛИ НА
CANNIBAL CORPSE:





Artist: CANNIBAL CORPSE
Album: "LIVE CANNIBALISM (CD)"

Year: 2000
EAN/UPS: 039841430226
Media type: CD


Цена: 16.00 лв. (BGN)

Cat. No.: WIZ00017293
Label: Metal Blade
Genre: Old Skull/ Melodic Death Metal, Grindcore



Статус: Артикулът е временно изчерпан!
Доставка до 30 дни.
Out of Stock
30 days delivery




Live Cannibalism is a live album by American death metal band Cannibal Corpse, released in 2000 through Metal Blade Records. It was also released as a DVD.
Most of the album was recorded live at The Rave in Milwaukee, WI on February 16, 2000. Tracks 3, 5, 6, 12 & 15 were recorded the day prior (February 15, 2000) at The Emerson Theater in Indianapolis.
TRACKLIST:
No. Title Music Length
1. "Staring Through the Eyes of the Dead" Chris Barnes, Jack Owen, Alex Webster 4:13
2. "Blowtorch Slaughter" Webster, Paul Mazurkiewicz 2:37
3. "Stripped, Raped and Strangled" Barnes, Rob Barrett, Owen, Webster 3:38
4. "I Cum Blood" Barnes, Owen, Bob Rusay, Webster, Mazurkiewicz 4:12
5. "Covered with Sores" Barnes, Owen, Rusay, Webster, Mazurkiewicz 3:43
6. "Fucked with a Knife" Barnes, Webster 2:26
7. "Unleashing the Bloodthirsty" Webster 4:12
8. "Dead Human Collection" Pat O'Brien, Mazurkiewicz 2:39
9. "Gallery of Suicide" Webster, Mazurkiewicz 4:11
10. "Meat Hook Sodomy" Barnes, Owen Rusay, Webster, Mazurkiewicz 5:10
11. "Perverse Suffering" Owen, Mazurkiewicz 4:20
12. "The Spine Splitter" Owen, Mazurkiewicz 3:31
13. "Gutted" Barnes, Owen, Rusay, Webster, Mazurkiewicz 3:26
14. "I Will Kill You" Webster 2:47
15. "Devoured By Vermin" Barrett, Webster 3:38
16. "Disposal of the Body" George "Corpsegrinder" Fisher, Webster 3:41
17. "A Skull Full of Maggots" Barnes, Owen, Rusay, Webster, Mazurkiewicz 2:32
18. "Hammer Smashed Face" Barnes, Owen, Rusay, Webster, Mazurkiewicz 4:45
19. "Sacrifice" (Sacrifice cover) 3:03
20. "Confessions" (Possessed cover) 2:56

LINE-UP:
George "Corpsegrinder" Fisher - Vocals
Jack Owen - Lead & Rhythm Guitars
Pat O'Brien - Lead & Rhythm Guitars
Alex Webster - Bass
Paul Mazurkiewicz - Drums, Percussion