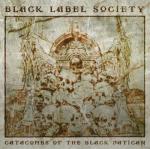 ДРУГИ АРТИКУЛИ НА
BLACK LABEL SOCIETY [ZAKK WYLDE]:





Artist: BLACK LABEL SOCIETY [ZAKK WYLDE]
Album: "CATACOMBS OF THE BLACK VATICAN (CD)"

Year: 2014
Media type: CD


Цена: 24.00 лв. (BGN)

Cat. No.: WIZ00016900
Label: Mascot Music Group
Genre: Hard Rock, Southern Rock/ Blues, Doom/ Stoner/ Sludge Metal



Статус: Наличен / In Stock




Catacombs of the Black Vatican will stand as an enduring testament to Black Label Society's sheer force of will and mastery of each and every musical neighborhood the hard rock titans choose to stomp through. The aggressive bite of the barnstorming BLS banger "Damn the Flood" sits comfortably right alongside the stripped down, emotionally searing "Angel of Mercy," "Scars" and "Shades of Gray." The album's opening tracks, "Fields of Unforgiveness" and lead single "My Dying Time," drop the throttle into swampy, down-tempo menace that wouldn't sound out of place neither in a Classic Rock band's catalog nor at the creative height of the grunge era.
Available as Black Edition LP and CD (Exclusive for Europe) and standard edition CD and LP.
TRACKLIST:
1. Fields of Unforgiveness
2. My Dying Time
3. Believe
4. Angel of Mercy
5. Heart of Darkness
6. Beyond the Down
7. Scars
8. Damn the Flood
9. I've Gone Away
10. Empty Promises
11. Shades of Gray