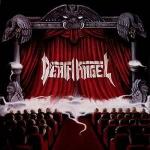 ДРУГИ АРТИКУЛИ НА
DEATH ANGEL:





Artist: DEATH ANGEL
Album: "ACT III (CD US-IMPORT)"

Year: 1990
Media type: CD


Цена: 22.00 лв. (BGN)

Cat. No.: WIZ00016629
Label: Geffen
Genre: Progressive/ Instrumental Metal, Thrash Metal/ Speed



Статус: Артикулът е временно изчерпан!
Доставка до 30 дни.
Out of Stock
30 days delivery




Act III is the third studio album by the thrash metal band Death Angel, released in 1990 on Geffen Records. Regarded by many critics and fans as the band's finest effort, the album was produced by famed metal producer Max Norman (Ozzy Osbourne, Megadeth, Loudness), and marked the first (and only) major label release by Death Angel. The album spawned the singles "Seemingly Endless Time" and "A Room with a View", with both songs receiving music videos and airplay on MTV's Headbangers Ball.
On tour in support of Act III in 1991, the band suffered a serious tour bus crash in which drummer Andy Galeon was critically injured. During his year long recovery, singer Mark Osegueda left the band, effectively ending Death Angel. In 2001, the band reunited for Testament singer Chuck Billy's Thrash of the Titans benefit concert (minus Gus Pepa) and went on to release The Art of Dying in 2004 for Nuclear Blast.
Recorded September – October, 1989 at Dodge City Sound, California, USA
Produced and engineered by Max Norman
Mixed by Max Norman, Rob Cavestany, and Andy Galeon
Mixed in November, 1989 at Skip Saylor Recording, California, USA
Mastered by George Marino at Sterling Sound, New York City, USA
TRACKLIST:
1."Seemingly Endless Time" (Cavestany) – 3:49
2."Stop" (Cavestany, Osegueda) – 5:10
3."Veil of Deception" (Cavestany) – 2:35
4."The Organization" (Cavestany, Galeon) – 4:16
5."Discontinued" (Cavestany, Galeon, Pepa, Pepa) – 5:50
6."A Room with a View" (Cavestany) – 4:42
7."Stagnant" (Cavestany, Galeon) – 5:33
8."EX-TC" (Cavestany, Osegueda) – 3:06
9."Disturbing the Peace" (Cavestany) – 3:53
10."Falling Asleep" (Cavestany) – 5:54
LINE-UP:
Mark Osegueda – Vocals
Rob Cavestany – Guitars
Gus Pepa – Guitars
Dennis Pepa – Bass
Andy Galeon – Drums