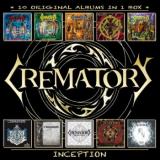 Artist: CREMATORY
Album: "INCEPTION BOX-SET (10CD BOX)"

Year: 2013
EAN/UPS: 886922667190
Media type: CD


Цена: 54.00 лв. (BGN)

Cat. No.: WIZ00016387
Label: SPV
Genre: Old Skull/ Melodic Death Metal, Gothic Melancholic Metal/ Rock



Статус: Артикулът е временно изчерпан!
Доставка до 30 дни.
Out of Stock
30 days delivery




There will be another CREMATORY highlight: a special boxset named "Inception" featuring the band's first ten studio albums in a cardboard sleeve box. An absolute must-have for all fans and collectors. Release date in Germany is November 22nd, in Europe November 25th and in the USA January 21st.
Content (the albums):
1. Transmigration
2. ...Just Dreaming
3. Illusions
4. Crematory
5. Awake
6. Act Seven
7. Believe
8. Revolution
9. Klagebilder
10. Pray