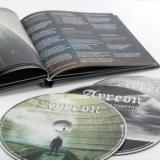 Artist: AYREON
Album: "THE THEORY OF EVERYTHING SPECIAL EDIT. (2CD+DVD MEDIA-BOOK)"

Year: 2013
Media type: CD


Цена: 42.00 лв. (BGN)

Cat. No.: WIZ00016309
Label: Inside Out
Genre: Progressive/ Instrumental Metal, Melodic Heavy Metal



Статус: Артикулът е временно изчерпан!
Доставка до 30 дни.
Out of Stock
30 days delivery




"The Theory of Everything" – the new rock opera of the Dutch multi-instrumentalist, composer, singer and producer Arjen Anthony Lucassen, the mastermind behind Ayreon.
Ayreon is progressive rock with a powerful yet symphonic heavy metal backbone – this time with seven guest singers: Marko Hietala (Nightwish), Tommy Karevik (Kamelot), Cristina Scabbia (Lacuna Coil), JB (Grand Magus), Michael Mills (Toehider), Sara Squadrani (Ancient Bards), John Wetton (Asia/ ex King Crimson, Uriah Heep)
And many guest musicians: Rick Wakeman (Yes), Keith Emerson (Emerson, Lake & Palmer), Steve Hackett (ex Genesis), Jordan Rudess (Dream Theater), Troy Donockley (Nightwish)
TRACKLIST CD 1:
01. Prologue: The Blackboard (01:55)
02. The Theory of Everything part 1 (03:01)
03. Patterns (01:03)
04. The Prodigy's World (01:31)
05. The Teacher's Discovery (02:58)
06. Love and Envy (02:39)
07. Progressive Waves (03:16)
08. The Gift (02:38)
09. The Eleventh Dimension (01:46)
10. Inertia (00:45)
11. The Theory of Everything part 2 (01:50)
12. The Consultation (03:49)
13. Diagnosis (02:48)
14. The Argument 1 (00:24)
15. The Rival's Dilemma (02:22)
16. Surface Tension (00:57)
17. A Reason to Live (00:45)
18. Potential (03:14)
19. Quantum Chaos (02:09)
20. Dark Medicine (01:23)
21. Alive! (02:29)
22. The Prediction (01:05)
TRACKLIST CD 2:
01. Fluctuations (01:01)
02. Transformation (03:13)
03. Collision (03:26)
04. Side Effects (02:59)
05. Frequency Modulation (01:44)
06. Magnetism (03:54)
07. Quid Pro Quo (03:09)
08. String Theory (01:29)
09. Fortune? (01:36)
10. Mirror Of Dreams (02:30)
11. The Lighthouse (03:16)
12. The Argument 2 (00:49)
13. The Parting (03:27)
14. The Visitation (03:27)
15. The Breakthrough (02:00)
16. The Note (01:11)
17. The Uncertainty Principle (02:09)
18. Dark Energy (00:44)
19. The Theory of Everything part 3 (01:29)
20. The Blackboard (reprise) (01:13)
DVD:
01. The Making of the Theory of Everything (48:30)
02. Full-length interviews (31:50)
03. Recording Session Time Lapse footage (12:28)