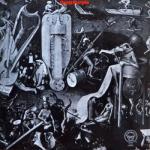 ДРУГИ НАЛИЧНИ АРТИКУЛИ НА
DEEP PURPLE:





Artist: DEEP PURPLE
Album: "DEEP PURPLE VINYL (LP BLACK)"

Year: 1969/ 2014/ 2016
EAN/UPS: 825646033959
Media type: LP



- 2014 REMASTER OF THE MK1 LINE-UP'S 3RD ALBUM ON 180 GRAM VINYL! INCLUDES DOWNLOAD CODE FOR MP3 VERSION OF THE ALBUM [!]


Цена: 37.00 лв. (BGN)

Cat. No.: WIZ00016276
Label: Parlophone
Genre: Progressive/ NEO Progressive/ Instrumental Rock, Hard Rock



Статус: Наличен / In Stock




Deep Purple was recorded in January, February and March 1969 at De Lane Lea Studio's, London. Deep Purple was the last album with the original band's lineup. All the tracks on the album are originals, except for "Lalena", which is a cover of a Donovan song.
SIDE A:
1. "Chasing Shadows" Jon Lord, Ian Paice 5:34
2. "Blind" Lord 5:26
3. "Lalena" Donovan Leitch 5:05
4. "Fault Line"
"The Painter" Ritchie Blackmore, Nick Simper, Lord, Paice
Rod Evans, Blackmore, Simper, Lord, Paice 5:38
SIDE B:
5. "Why Didn't Rosemary?" Evans, Blackmore, Simper, Lord, Paice 5:04
6. "Bird Has Flown" Evans, Blackmore, Lord 5:36
7. "April" Blackmore, Lord 12:10

LINE-UP:
Ian Paice (drums)
Jon Lord (backing vocals, hammond organ, keyboards)
Nick Simper (backing vocals, bass)
Ritchie Blackmore (guitar)
Rod Evans (vocals)